11/13/2023
Questions for the Ride Home
What was

Junie B. in Jingle Bells, Batman Smells

about? If you had to summarize the play in one sentence, what would it be, or, in your opinion, what is the main message or messages?

Junie B. looks forward to the Holiday Sing-a-Long. What are some of your favorite holiday songs to sing or listen to?

Do you think Secret Santa is fun?

Is it more fun than just trading names for gifts? What makes someone a good gift giver or receiver?

In the end, what does Junie B. decide to do for May? Why doesn't she stick with teaching her a lesson? Why do you think she changed her mind? What would May have done if Junie B. hadn't changed her mind?
Experience More
Leu Gardens Dazzling Nights
Immerse yourself in an interactive holiday light display at neighboring Leu Gardens. Explore the 8ft ornament play area, spots that light up when you jump on them, a 70ft light tunnel, and snow all night long! $15-30. Learn more here.
Winter Park Library 
Throughout December, the Winter Park Library hosts a wide variety of fun and educational events. Check their calendar for events like gingerbread house decorating, ornament making, and "Books and Ballet:The Nutcracker" with guest artists from the Orlando Ballet. 
The Orlando Ballet presents The Nutcracker 
Experience a holiday classic in beautiful Steinmetz Hall at the Dr. Phillips Center. Select dates December 8-24. Tickets starting at $74. Learn more and buy tickets here.
Do More at Home
Holiday Gift Shop Money Math
Junie B. Jones only had $5 to spend at the Holiday Gift Shop, until Grandpa Frank Miller gave her another $5. She had to do some quick math to figure out her total budget and how and how much she could spend on everyone. In this printout, kids can have fun practicing money math and thinking about budgeting their own money ahead of the Holidays. Recommended for 1-3 graders.
Download and print: Holiday Shopping Money Math
Write your own Holiday Coupons
Kids can create their own holiday coupons for cost-free and thoughtful gift giving this year! Encourage children to think about the other person and what kind of coupon or service they might need or enjoy.
Download and print: Red Coupons
Download and print: Green Coupons
Holiday Snacks
Snack making is a great way for kids to practice fine motor skills like pinching, grabbing, stringing, and squeezing. Here's a festive and healthy holiday treat that will also encourage kids to process patterns and sorting – to make these Santa kabobs, you'll need strawberries, grapes, a banana, some mini-marshmallows, and toothpicks. Enjoy!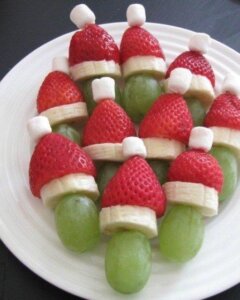 READ MORE STORIES LIKE JUNIE B. JONES 
Get EPIC, an online resource to access over 40,000 books, audio books, and online resources.