10/10/2023 | Stacie Perez
Orlando Family Stage has been both a leader and provider of professional development workshops and seminars for teachers throughout Central Florida for many years. This year Orlando Family Stage has taken a new approach to its model and is focusing on providing Orange County Public School (OCPS) teachers with full day professional development arts experiences through its "Partners in Education" program with the John F. Kennedy Center for the Performing Arts. This unique model allows teachers to spend a full day at Orlando Family Stage watching a show, observing a live model lesson with students, and participating in an arts integrated workshop. Teachers not only walk away with continuing education credits, but with a full immersive theatre arts experience that provides them with inspiration, resources, and ideas for their classrooms. 
OCPS science teachers were invited to see a live performance of Theatrworks USA's The Magic School Bus: Lost in the Solar System musical based on the beloved books and tv series. In addition to teachers watching the show, OCPS also invited and sponsored a middle school science class from the Academy Center for Excellence to watch the performance along with them. Afterwards, a model lesson led by Randy Barron, a Kennedy Center Teaching Artist, was facilitated for the students right on the set of the show, and teachers got to observe this arts-integrated model focused on the solar system. Randy connected various concepts from the show and had students use creative movement and dance to interpret different elements of the galaxy. Students worked individually and in small groups using dance to demonstrate their understanding of how planets orbit around the sun. At the end of their lesson, they presented their group work to participating teachers observing. 
After a brief feedback session and lunch break, students went back to their school and teachers continued their day with a 3-hour intensive workshop with Randy titled "Scientific Thought in Motion" which focused on providing teachers with the tools on how to approach this integrated creative process. For most of these teachers, this was their first time ever attempting to incorporate the arts into their existing curriculum, and their enthusiasm and curiosity made for a dynamic afternoon. One science teacher shared that "…dancing is out of my comfort zone, but this was so fun and I learned a lot!". Another teacher shared that "the ability to move made the workshop very engaging, fun, and relevant". Randy's workshop covered a variety of different ways that science and dance can be integrated, such as life cycles, water cycles, and solar cycles. Teachers were encouraged to work together and go through the process of creating their own dances to represent various science topics.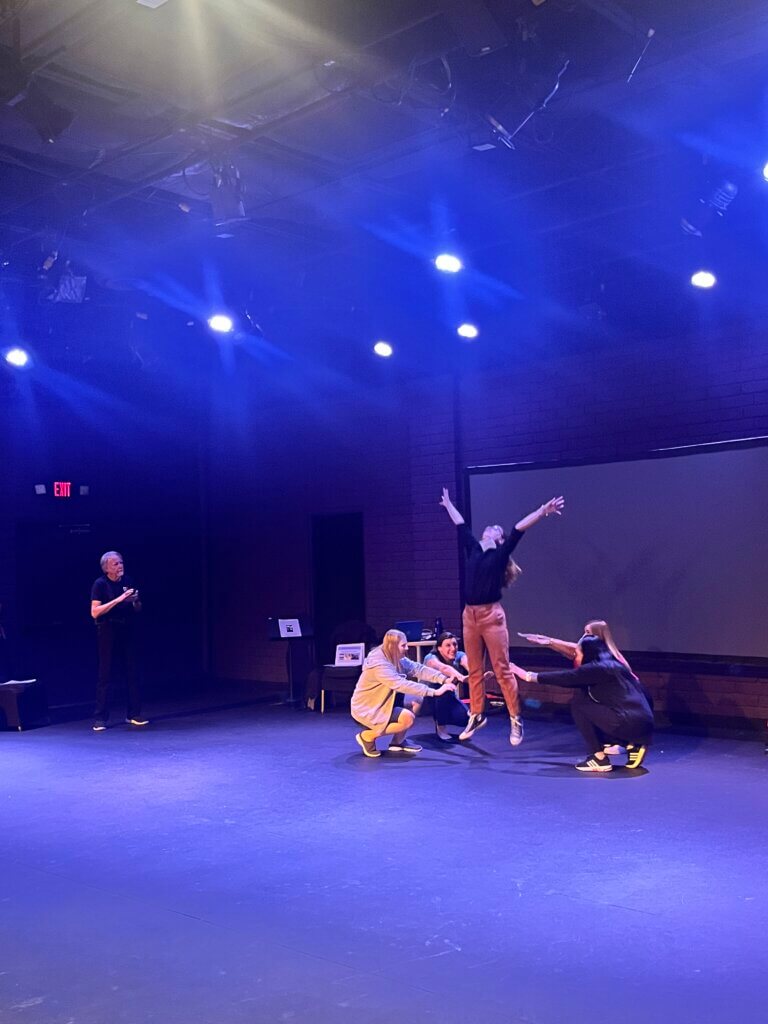 Randy's love for all things science and dance was evident throughout the day; his relaxed and natural approach to instruction allowed participants to feel comfortable and vulnerable trying new things. With a background as a pre-med student in biology, who found his love for dance in college, Randy shared that he realized "everything in the universe is moving" – integrating dance and science just came naturally. When asked about the advice he would give any teacher attempting to integrate the arts into their curriculum, he shared that "…it is important to take small steps. Don't worry about integrating until you can teach basic skills in that art form. You can do that by becoming more familiar with the art form; read about it, watch a show, do research." It is not important to become a professional artist to engage your students in arts integration learning, as Randy shared, what is important is becoming "…designer of the students' creative process and education." 
Providing teachers with opportunities like these to frame their work through an arts lens allows students to interpret their work in a deeper and more meaningful way. According to research done by the Journal of Learning the Arts, teachers that used arts-integration reported more student engagement and better learning expression of students. These benefits, however, are not just limited to the students; contributing to a teachers' creative capacity also has the potential to change school culture and professional satisfaction too. The National Association for Elementary School Principals reported that "principals whose schools use a schoolwide arts-integration approach report more success in attracting and retaining teachers." Orlando Family Stage understands the importance and need to create experiences for educators, and is committed to continuing its longstanding professional development programming for both arts and non-arts teachers throughout Central Florida and beyond!
If you or your school is interested in learning more about professional development programming, please email [email protected].