3/9/2021
Let's celebrate Amanda Williams, theatre teacher at Ventura Elementary for fours years!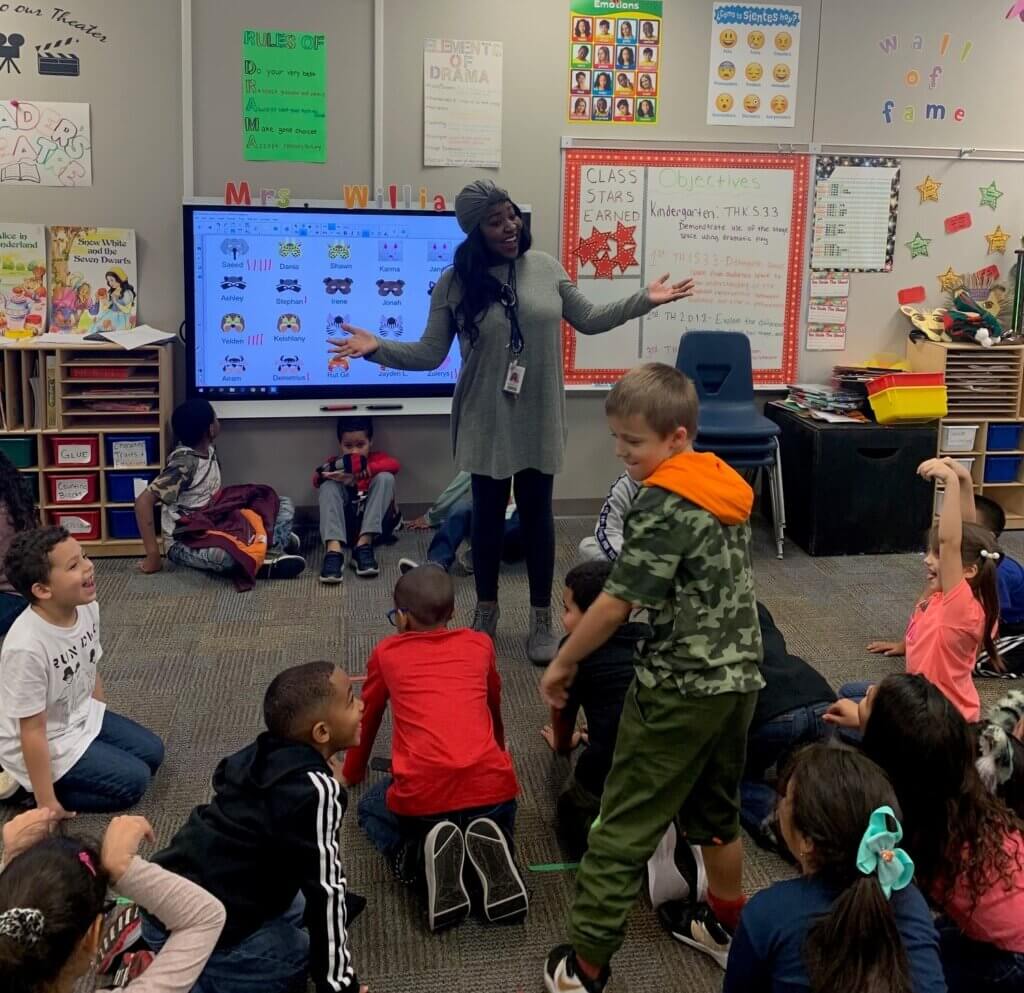 What drew you to education and specifically the important role of theatre teacher?
I have always had a love for theatre. Every job I've had since I was 16  has been working with kids, so I knew I wanted a career doing what I love (theatre), and getting to teach it to the children I love. I didn't think it'd be possible because I always knew I wanted to teach drama to elementary aged students within the school system, but where I grew up, the only special area classes available to elementary students were PE, Art, and Music. I am SO blessed to be doing the exact job I had always dreamed of! I was a Theatre Studies major at UCF with a minor in Education. I wish they had a Theatre Education track like they do with Music and Art Education.
What is your favorite aspect of your job?
Seeing the talent of this age group makes me light up with so much joy. I teach a monologue unit to 2nd grade, and everyone thinks I'm crazy for doing that with students so young, but you would be surprised/impressed with their abilities. I set high expectations for all of my students and they never cease to amaze me! That's what I love most about teaching theatre, seeing what all these students are capable of and pushing them to explore every bit of talent within themselves.
In celebration of TIOS (Theatre in Our Schools Month), we are excited to showcase that even amidst a global pandemic, theatre and the arts are alive and well in schools. Your classroom and program is a great example of that fact. What are you up to this month? 
My school has a high Hispanic population, so a lot of emphasis is placed on Hispanic Heritage Month, and Black History Month is almost always an afterthought. This year I gathered a couple of students and had them learn different poems about prominent Black figures in American history. I also taught 1st grade a dance to the song "Waka Waka" which talks about everyone reaching for their goals no matter where they may come from. I'll attach the video below! This month is Women's Appreciation/History Month, so I have been working with two 2nd graders on a Maya Angelou project. One of the students memorized "Still I Rise" and the other student is doing interpretive movement to the poem. I actually had no idea that it was Theatre in our Schools month, so that makes me even more excited to implement more theatre practices and performances this month!
Which projects or classroom assignments are you most excited about and why?
See above! Due to Covid, and me having a baby in a couple months, I'm not able to do a spring musical, but every year, I typically do a Kindergarten musical in April and a 3rd-5th grade musical in May. That WOULD be what I'm usually looking forward to. For now, It's the Women's Appreciation Month video project.
Do you have plans to celebrate TIOS month? How so? 
Now that I know about it, yes! I plan on looking up some monologues or small group scenes/skits to hand out to a few of my former drama club students. Hopefully they can get these scenes down by the end of the month so that I can include them in the Women's History Month video, and also show appreciation/recognition to Theatre In Our Schools!
Thank you OCPS Arts for sharing your theatre teachers with us!