Thank you to United Arts of Central Florida and Connie Sue White from Orlando Arts Magazine for permission to reprint this article! See the original article here! 
The REP Delights Tots and Toddlers
Creative play encourages healthy brain development
By Connie Sue White
Orlando Arts Magazine May | June 2021
Fred Rogers once said, "When children pretend, they're using their imaginations to move beyond the bounds of reality. A stick can be a magic wand. A sock can be a puppet. A small child can be a superhero." 
The host of the popular preschool PBS series Mister Rogers' Neighborhood — who was an alumnus of Rollins College — understood the important role of imagination in a child's development. 
Imagination can be further encouraged through immersive and interactive play that includes storytelling through performing — which is exactly what Orlando Family Stage's (Orlando Family Stage) Theatre for the Very Young (TVY) program aims to do. 
Created specifically for infants and children up to age 5, Orlando Family Stage's TVY is a multisensory experience that invites audience members (and yes, parents and guardians, too) to become part of sharing a narrative through creative play.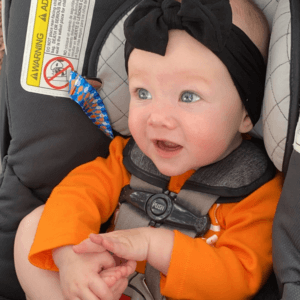 "Theatre for the Very Young is rooted in best practices in early childhood development, including healthy relationships with caregivers, play and exploration, and exposure to both language and nonverbal communication," says Jennifer Adams-Carrasquillo, Orlando Family Stage's senior director of education. 
Engaging creatively with a 2-year-old supports healthy brain development, she says — and the science backs her up. Such interactions help tots gain skills related to motor functioning, preliteracy, socialization, creative thinking and problem solving. 
Notes Adams-Carrasquillo: "Remember, nearly 90 percent of a child's brain develops before kindergarten." 
After years of classes designed for 3- and 4-year-olds, TVY expanded its offerings in 2019 for infants through children age 5. Also added were half hour Baby & Me classes, during which team members from Orlando Family Stage guide caregivers and their little ones through sensory classes. 
The theater also presented an original pilot program, When Pigs Fly, based on a thesis by then-University of Central Florida College of Arts & Humanities graduate student Maria Katsadouros. 
When the COVID-19 pandemic hit in 2020, the program had to adapt. Shows were paused and socially distanced Baby & Me Story Strolls were introduced, during which guardians and their children stopped at various locations in Loch Haven Cultural Park to hear a team member narrate part of a story. 
Orlando Family Stage is bringing back the TVY shows in May with the first presentation of the season, Teddy Bear's Picnic, by award-winning director and playwright Ernie Nolan — who received the Illinois Theatre Association's 2014 award for Excellence in Theatre for Young Audiences.
Adapted from a book by Jimmy Kennedy, in Teddy Bear's Picnic children and their guardians join Mama Bear and her son, Buddy, for a very special outdoor event in the sprawling space. 
During the socially distanced show, the audience is seated on picnic blankets while actors move around, safely interacting with the audience while telling the story using puppets and nature as props. 
At press time, Artistic Director Jeff Revels says he's planning to follow up Teddy Bear's Picnic with a second show during the late summer or early fall. It will be penned by Orlando Family Stage's own Adams-Carrasquillo, who's a playwright in addition to her duties as senior director of education. 
"Writing for this age group is exciting because it's so playful," she says. "You're trying to create an experience where the audience is a character, the world is immersive and communication doesn't happen just through words but through sounds, visuals, movement and overall thematic storytelling." 
Audience members play the role of experts who assist characters along the way by, for example, helping them to follow a treasure map or to learn the alphabet while playing with food.
Adds Adams-Carrasquillo: "The stories are simple, but the experience is full of discovery." 
Revels hopes to build up a repertoire of TVY events designed to "inspire creativity and strengthen the bond between the adult and child — and show how to enhance that growing relationship through art." 
Teddy Bear's Picnic is presented on select Saturdays during May. Orlando Family Stage is located at 1001 East Princeton Street, Orlando, in Loch Haven Cultural Park. For more information, visit orlandorep. com or call 407.896.7365.