Questions for the Ride Home
What was

Click, Clack, BOO! A Tricky Treat

about? If you had to summarize the play in one sentence, what would it be or what would be the main message or messages, in your opinion?

Halloween is a day to have fun and get spooky!

What is your favorite part about Halloween?

What is something on Halloween that scares you?

Hen chooses a costume based on what she wants to be when she grows up? What do you want to be when you grow up? What could you wear as a costume to show that?

Farmer Brown thinks Halloween is too scary. When you are feeling scared or nervous, what is something you do to make yourself feel more brave?

Hen understands how Farmer Brown feels. Have you ever known someone that your friends have misunderstood, but you understood them? How did you, or how would you, handle that?
Experience More
Southern Hill Farms Fall Festival
Spend an afternoon on a real working Central Florida Farm. Explore the pumpkin patch, enjoy a wagon ride around the farm, pick sunflowers, and try to find your way through the corn maze at Southern Hill Farm's Fall Festival. Agriculture is one of Florida's top industries so why not come and experience what the farmers are doing first hand!
"Happy Frights" at Leu Gardens
Fun for all ages! Meet a dancing bridge-troll, explore the neon-light maze, celebrate Dia de los Muertos and more. Gather the entire family and enter into excited immersive worlds throughout the gardens, plus 8 trick-or-treat stations along the way. 
Do More at Home
Color-by-Number
Color by number with the characters from Click, Clack, Boo and their pals! Kids will practice hand-eye coordination, number recognition, and handwriting grip as they complete the picture. Once each number is found and colored in, feel free to fill in the rest according to your own artistic preference! All you need is a set of coloring tools. 
Download and Print- Color By Number Barnyard
When I Grow Up
Remember when Hen could not decide what to be for Halloween? The other animals helped her brainstorm ideas by asking her what she wants to be when she grows up. She thinks maybe she could be a firefighter or even a doctor. What do you want to be when you grow up?
This printout is fun for kids to dream about their future while thinking about what they truly want to accomplish. Kids can write and draw what they see ahead in their future. 
A fun idea – print multiple sheets and let your kids complete this over the course of the year or even many years!
Download and Print- When I Grow Up
Barnyard Boogie
Crank up the barnyard jams and get ready to dance like the livestock do! When the music stops, freeze! Between each freeze, encourage your child to imagine and explore creative movements like these barnyard favorites: 
Roll in the mud like a pig

Pick the vegetables like a farmer

Slow and heavy steps like the cow

Waddle like a duck

Small quick steps like a chicken
We recommend using the soundtrack from the movie, "Barnyard" featuring songs like, "Mud", "Hitting the Hay", and "Down on the Farm" – Available on Spotify and Apple Music!
Build-A-Tractor Snack
Lay out an assortment of bread, veggie sticks, graham crackers, pretzel rods, and round crackers with a little bit of green icing or savory spread and let your child get to work building their very own tractor snack. Not only will they love using their imagination to create a tractor, but they'll be working on fine motor skills as they carefully break, spread and place snack pieces together.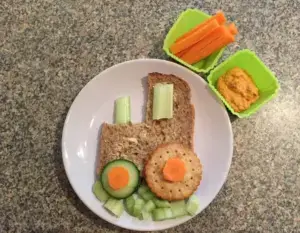 READ MORE HALLOWEEN AND FARM THEMED BOOKS 
Get EPIC, an online resource to access over 40,000 books, audio books, and online resources.