11/5/2020
What is your favorite thing you do with your family each year? Do you and your friends have a back to school tradition?  Is there something that you do every holiday that makes you smile? 
If so, come join us and be a part of Writes of Spring 2021!
The 18th annual Writes of Spring writing competition has officially begun! Writes of Spring is a unique opportunity where students Kindergarten through 12th grade use their creative writing skills to answer this year's prompt: "My favorite tradition…".  Each student submissions is adjudicated and the winning pieces used to create a brand new play produced here at Orlando REP. The production will be professionally recorded and available to stream on Vimeo. This project is produced in partnership with the University of Central Florida and organized by the current Theatre for Young Audience MFA cohort. 
This year, we are excited to open this competition to the entire United States! With the boom in online programming, Writes of Spring is extending the submission circle beyond Central Florida and accepting submissions from all over! In addition to making Writes of Spring a national competition, we are pleased to announce acceptance of submissions in both English and Spanish.  There is also a resource guide available to help writers think about the prompt, get their creative juices flowing, and inspire their writing!
Joni Newman, this year's project coordinator is particularly excited to see how the events of this year have helped shape our writers this year. "Traditions are things we hold onto as a kind of anchor. They keep us stable and provide a certain predictability–something we can look forward to no matter what. It's exciting when years like this one help us to create new traditions. One tradition I have started this year is an online book club with some of my friends from around the country. We meet on the last Friday of every month to talk about a book we've read. If it weren't for this year and an increase in video chatting, I don't think we would have ever done something like this. I used to hate video chats. Now I love how they have brought me closer to some old friends again!"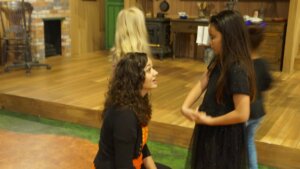 Submissions are open November 5th and close end of day December 4th.  Winners are notified no later than January 8th and the original play created from the submissions is available to stream on April 9, 2021.
For more information on how to participate and access to our resource guide, visit the Orlando Family Stage website here: https://orlandofamilystage.com/writes-of-spring/
Happy Writing!