7/8/2022
One of the incredible parts of being a student at Orlando Family Stage is that there are always opportunities to give back and serve the community. Many of our middle and high school students choose to do this by sharing their passion for theatre with younger students through our Youth Academy Apprentice program. Every year, students grades 7-12, volunteer as Apprentices in Orlando Family Stage classrooms to assist teaching artists and directors within the Youth Academy. These students serve as assistants, role models, guides, and mentors for younger students in the program. Apprentices not only get to accumulate community service hours for their work, but also gain invaluable experience from professionals in the theatre community. 
This past summer, Orlando Family Stage housed almost 40 Apprentice volunteers during its ten-week run of summer camps and performance workshops. Their dedication and commitment to Orlando Family Stage played an important role in ensuring that our programming ran smooth and seamless. Although some of these students were new to Orlando REP, many of these participants in the program were previous students  hoping to gain more experience in their journey towards becoming theatre professionals. 
One participant that dedicated almost her entire summer to serving as an Apprentice in Orlando REP's camps and classes was Payten Reilly. Throughout the summer, Payten served various camps including: escape rooms, musical theatre camps, cardboard creators camps, and performance workshops. We sat down to talk to Payten about what she learned, her experience with Orlando REP, and what it means to be a Youth Academy Apprentice. 
How long have you been an Apprentice at Orlando REP? 
I have been an Apprentice since Spring Break of 2022
What was your first experience with Orlando REP?  
I have been a student here since I was 7 years old – so about half of my life! 
What made you want to become an Apprentice?
I wanted to learn more about the theatre and this was a way for me to do it, while getting community service, and having fun!
What about the Apprenticing do you most enjoy?
I like the opportunity to learn beside working professionals in the field. I also made a bunch of new friends that have similar interests as me. It's also an amazing place to hang out and help kids connect with theatre! 
Would you want to be an Apprentice again?
Yes! Definitely!
What would you tell students that are considering becoming Apprentices? 
You should do it! It's a fun experience!
What kind of skills can Apprentices learn while volunteering? 
Definitely patience, guiding and mentoring students, classroom management, and the different elements of putting on a show (such as props, costumes, and stage management)
Has the Apprentice program influenced any of your course decisions as you start high school?  
Yes, it has made me realize that I enjoy the more technical aspects of theatre.
What career goals do you have for the future?
I would really love to be a stage manager.  I would also love to work in an Education Department at a theatre to help kids connect with theatre – seeing kid's faces light up is really worth it.
How can the Apprentice program benefit others in their future career goals? 
You get to work with people from all over the theatre world and industry. You get to learn more about the different aspects of theatre and  make connections with lots of different people as well.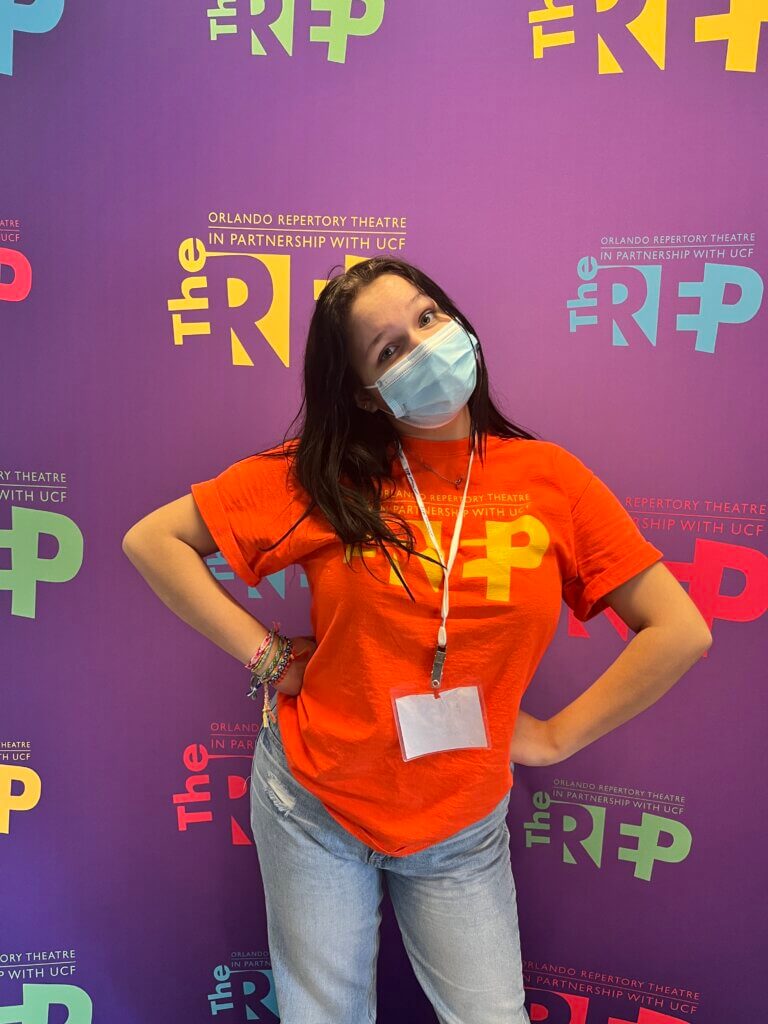 Payten was not the only Apprentice that felt like this program provided many great learning and leadership opportunities. Several of our other participants have started out as students in our Youth Academy, and are now developing their leadership skills in their new roles as Apprentices too. 
"My experience at the Orlando Family Stage has been incredible. I've been coming here since I was seven years old and I have enjoyed every aspect of it. I really enjoyed being an Apprentice! I got to meet so many new people, teachers, other Apprentices, and students, that were so kind and just incredible. The Orlando Family Stage provides a positive and supportive environment for everyone and it feels really great to be a part of that and help pass my experiences on to people who are new. Orlando Family Stage offers and models great communication and cooperation skills that help students develop skills that will prepare them for any job or field that they are interested in. It is a great place for people my age who are interested in gaining these skills, and also for those who desire to work with professionals in the performing arts. I highly recommend Orlando Family Stage to anyone my age who wants to participate in this kind of experience."
–Jade Harvey, a student and Apprentice at Orlando REP
"My experience at the REP has been phenomenal. Everyone there, the staff, the people, are amazing. They know how to put a smile on your face. All of the directors I have worked with, whether it was as an apprentice or an actor, really had a passion for what they were doing. They loved theater with all their hearts and that's what makes the Orlando Family Stage special. That's what made me want to be an Apprentice, because I love what I do. I think it's a really good and beneficial experience to have under your belt. You get to work with professional and trained adults who can successfully guide you down the right path. I know from doing this program that I've learned to have more patience and find different ways to communicate with younger kids. Sometimes, the normal average talk doesn't sit right with them and you have to find a new way of getting the point across while also being respectful of them. You also get to play games and just bond with the kids. You gain new connection you never knew you needed."
–Javier Collazo Lopez, a student and Apprentice at Orlando REP 
"I've been coming to Orlando Family Stage for about 10 years and I decided to start working as an Apprentice because I've been in many shows and programs and loved it, and I wanted to give other kids the positive experience that I was able to have. I've learned how to be more productive, organized, speak publicly, and be comfortable guiding students younger than me. It has definitely taught me leadership skills, and confidence. I purely believe that confidence is a driving force in the world, and that is something you definitely learn here." 
–Sasha Miller, a student and Apprentice at Orlando REP 
The Orlando Family Stage Apprentice program has become a foundational step for many students wanting to gain more experiences in theatre, and these are just a few stories of those that have been impacted by this program.
If you or someone you know is interested in becoming a Youth Academy Apprentice, please complete this online application or email Stacie Perez for more information at [email protected].