B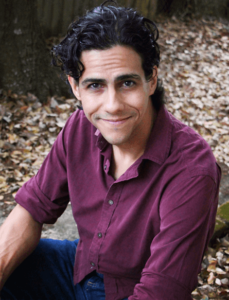 y: Danica Taylor, Marketing/PR Intern
Skippyjon Jones, currently playing at The REP, is Stephen Pugh's 13th production as an actor on our stages. Pugh plays the roles of Scar, Princess, Sir Mew Mew, and the memorable villain, Alfredo Buzzito. Some of his past credits at The REP include The Somewhat True Tale of Robin Hood, The Adventures of Tom Sawyer TYA, The Borrowers, and Orphie and the Book of Heroes.
We sat down with Stephen and asked him to share some stories about his career, experience, and favorite memories with The REP.
How did you choose to pursue a career in theatre? What is your story?
Stephen: "The first time I did theatre was just before high school. My sister had been part of the theatre department there, and she suggested I do the summer show before my freshman year. The show was Joseph and the Amazing Technicolor Dreamcoat, and I played Benjamin, the youngest brother. After that, I just kept doing show after show in high school."
At one of his last high school last shows, Stephen was invited to audition for a scholarship for Seminole State College. He received the award and continued to do shows while in college. He was the only student cast in his first professional show with Orlando Theatre Project, and eventually left school to start working in local theatre. Some of his favorite roles soon after include Kenickie in Grease, and Snoopy in You're A Good Man, Charlie Brown.
How did you first get started at The REP?
"I started out at The REP by building sets. I worked on the set for a summer youth production of Footloose. After that, I kept building sets for them, then auditioned for the season, and got cast in my first REP show, The Somewhat True Tale of Robin Hood. I kept coming back, and now I'm in thirteenth production here."
What is your favorite memory with The REP?
Last year, Stephen and the cast of The Mostly True Adventures of Homer P. Figg were invited to do a special performance of the show at Dr. Phillips Center for the Performing Arts in the Walt Disney Theatre. This special presentation was a free gift to more than 13,000 students in Orange County Public Schools.
"I had never performed on such a huge stage. You step out and your heart just drops into your stomach when you look out and know that you're going to be here, performing, for thousands and thousands of kids. It was scary, but the best memory of it was that first show. It was the greatest feeling. The best moment that The REP could ever give an actor to be a part of."
Do you find yourself attracted to a certain type of role or character in a show?
"Villains have always been something that I just did well. A villain always has something they're trying to obtain. It's the same as an actor: you need to have objectives, and achieve them throughout the show."
For Stephen, playing villains is like "going home" for him.

What is your favorite part about performing?
"Getting immersed in the show. I never see an audience, unless I need to. I get so wrapped up in what we're doing, being in the moment, and being these characters. I don't have time to think about where I really am. I don't hear the kids unless I am supposed to."
Where else have you performed other than The REP?
"I currently work at Universal Orlando as a host at Fear Factor Live. Universal has been extremely wonderful to me in helping my career and providing me with something new and different."
Stephen performed in the Disaster! attraction and in Beetlejuice's Graveyard Revue at Universal Orlando, and has been involved in Grinchmas and Halloween Horror Nights. He has also performed with many other groups in town, including Orlando Fringe Festival, Theatre Downtown, The Garden Theatre, and Central Florida Community Arts.
What is the most important thing you have learned as an actor?
"You still have to have an imagination as an actor. You have to be able to lose yourself in a story and character, because if it's not real to you, it's not going to be real to an audience. You have to believe in everything that you're doing. Just as you get lost in your imagination, you want the audience to get lost in their imagination, and believe that what they're watching is not just a person in a costume."
Stephen is currently performing in Skippyjon Jones at The REP until April 3.