2/2/2021
Stacie Perez
Puppetry and Theatrical Design: A New Twist to Enhancing Literacy Skills 
Orlando Family Stage has once again decided to take on a new twist to their already established and well-known Engaged Learning through the Arts (ELTA) program.  For years, Orange County Public School (OCPS) teachers have always been able to receive high quality professional development through the ELTA program that focuses on using the arts as a tool to enhance literacy skills. Many different types of drama strategies and techniques have been introduced and taught, with each making clear connections to curriculum and enhancing student learning. This new year, however, inspired Orlando Family Stage to take on a new approach to support literacy skills through focusing on theatrical design and puppetry!
It was important to find the right facilitator that understood how to combine these elements within the educational realm in order to provide teachers with the right tools for their classrooms. Orlando Family Stage didn't have to look any further than their very own Tara Kromer, a professional puppet builder, props designer, and director who has served at Orlando REP, and all over Central Florida, for over five years. As a graduate from the Theatre for Young Audiences program at the University of Central Florida, she understood and created all of the steps a teacher would need to take in order to prepare their students for this work and so she created a workshop titled "Design Your Story: Creative Storytelling through Theatrical Design and Puppetry".

 
This interactive workshop was designed so that each activity scaffolded onto the next, providing a clear guide for teachers on how to take steps towards the designing process that would eventually lead up to the construction of puppets. Kromer is a strong believer in that "the theatrical design process is all about understanding the story at hand and breaking it down into smaller pieces to be examined, imagined, and brought to life. Applying this process to stories and literature in the classroom challenges students to use empathy, creativity, and critical thinking skills to explore character, setting, and plot in an exciting and unique way."
Participating teachers in this workshop got to experience the steps for themselves. Some of the more basic activities in the beginning of the workshop included reviewing the elements of design and creating sketches of characters based on random found objects. As the workshop progressed, participants were asked to listen to a short story, visual what they were listening to, and then draw a set based on their own interpretations. This exercise allowed participants to gain a sense of their own design preferences which transitioned into another activity that focused on designing the characters within the story. Participants identified adjectives and descriptive language they heard within the tale to help create and draw characters from the story. These drawings became the blueprint for their puppets.
As a homework assignment, teachers were asked to think about ways this work could be useful and adapted for their own classes as well as share their individual puppet designs. Many thoughts were shared, but the common ground lies in that theatrical design and puppetry is all based around stories, and that's what theatre is all about, telling stories. Allowing a student to explore, interpret, and visualize a story through theatrical design allows for more dimension and perspective in the reading comprehension process, while offering a different modality through which they can express themselves. The process behind creating puppets serves as both a tool for the exploration of design, as well as a teaching strategy that helps bring stories to life.  
Just about any teacher could use this concept and adapt it to fit their needs. It doesn't have to be complicated or scary. For teachers trying this for the first time, Kromer recommends that "the first steps toward applying the design process in the classroom should include choosing a simple story, and asking the fundamental questions that theatre designers frequently ask: What characters and settings are essential to tell the story? How are they described in the text? How do they make you feel?" She also adds that "these fundamental questions are at the heart of theatrical design, and can be great ways for students to develop a deeper understanding of the story through the use of visual art."
Giving students an opportunity to dig deeper into their understanding of a text or story using theatrical design is just another link to the never-ending connections between developing literacy skills  and art. 
Look at these beautiful puppets that Tara and her teams have worked on over the past few seasons at Orlando REP!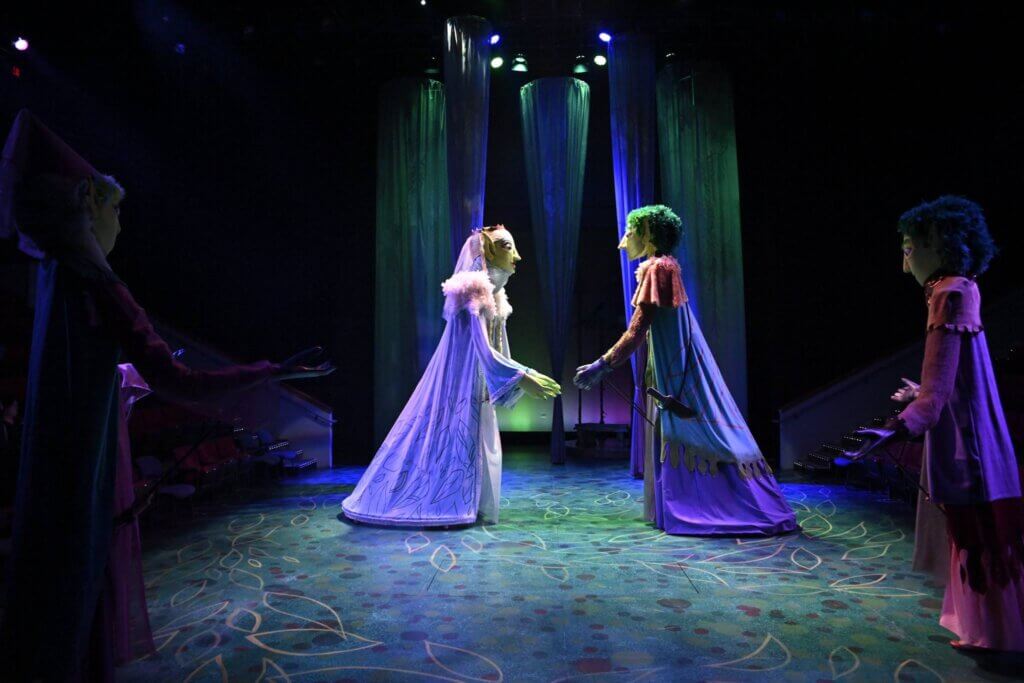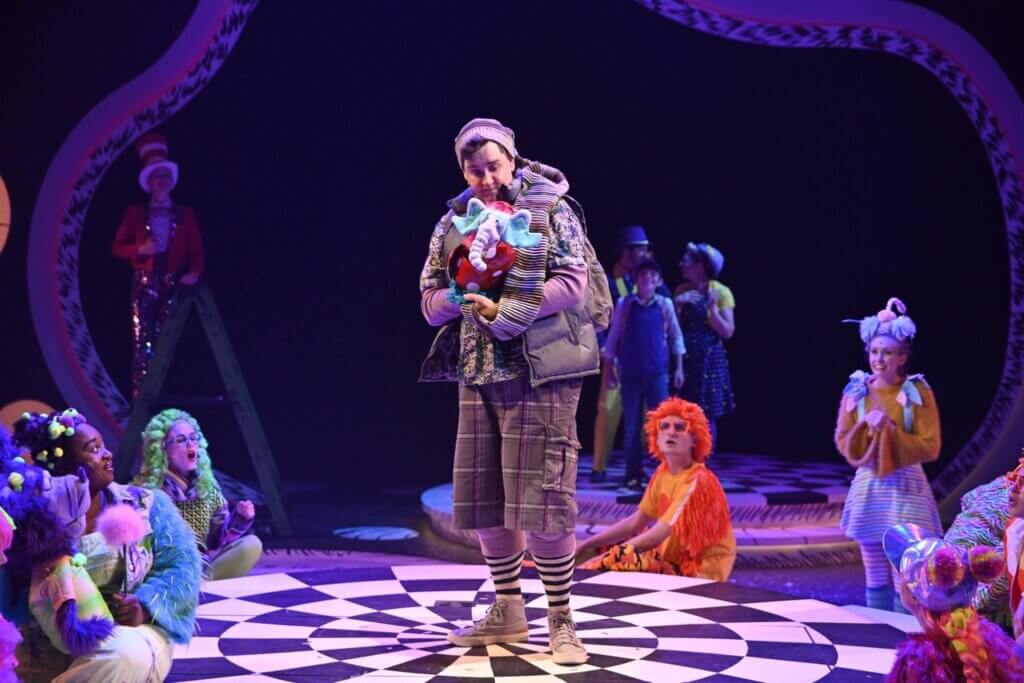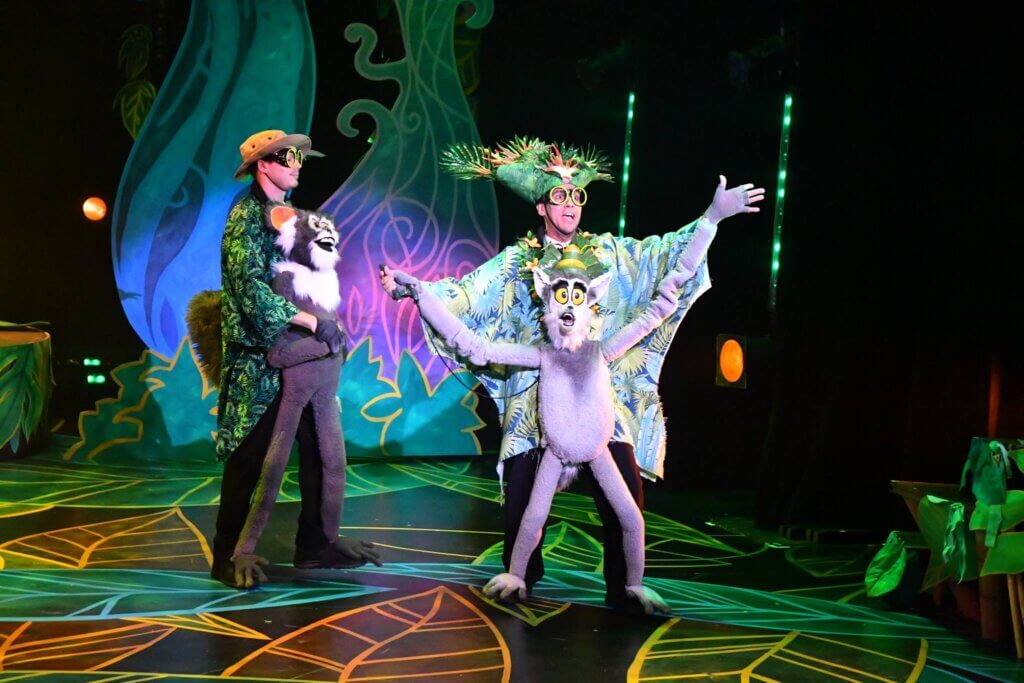 ** denotes a member of United Scenic Artists Local 829.
*** The Director is a Member of the Stage Directors and Choreographers Society, a national theatrical labor union
For more information about Orlando REP's ELTA professional development program, please email [email protected].