Orlando Family Stage (Orlando REP) has added yet another layer to their ever-growing repertoire of programming dedicated to providing young people exceptional theatre experiences. This new programming includes introducing its very first dual language drama class. This model allows English and Spanish speaking students the opportunity to work together to explore pantomime, character development, and storytelling through an immersive linguistic story drama experience.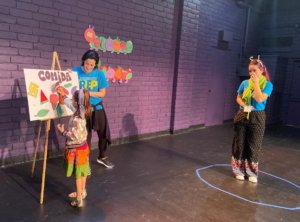 Although the class is taught equally in both languages by experienced bilingual teaching artists, students are not required to be fluent in both. In fact, this innovative model was created to allow students the opportunity to participate regardless of their linguistic levels. The goal of this class was to create a healthy balance where both theatre and language skills hold equal importance, while simultaneously complementing each other. Stacie Perez, an Orlando Family Stage staff member and teaching artist in the program, believes that "Theatre naturally provides a fun and safe environment for young people to implicitly learn language without the fear of taking risks."
Orlando Family Stage understands the need for this type of programming as well as the impact it has on the community. Gisella Hernandez, teaching artist, states that "Dual language drama classes help our diverse community unite and helps bring down language barriers that prevent us from sharing creativity and talents with each other." Uniting and building community has always played a central role in Orlando REP's mission, and this new dual language class has proven to be an ideal platform for it. This is why participating students not only get to present what they have learned during their final presentation, but also invite their friends and family to participate and learn alongside them. "Invited participants get a sense and taste of what the classroom experience is like by attending the final presentation – it becomes a learning community for all!" shares Ximena Gonzalez, a participating teaching artist in the program.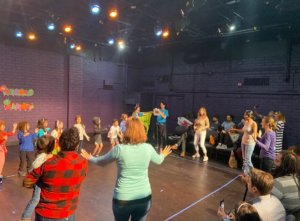 This dual language model has motivated many students to continue perusing both theatre and language learning beyond the classroom. Paula Contrereas, a parent of two children in the program, shares that "My children had an amazing experience. This class helped them get in touch with their Spanish speaking heritage. The kids have been more motivated to speak Spanish since taking the class." Regardless of the students' background or knowledge, this class offers opportunities to both celebrate and unite communities using theatre as a portal of exploration.
The success of the pilot class that took place in fall of 2019 has motivated Orlando Family Stage to continue providing dual language experiences for young people. Interested in joining? Please visit our website at orlandorep.com for our next spring session starting soon!
Coming this spring…March 28-May 2!