11/22/2022
For the past month Orlando Family Stage has not only been creating theatre at our home in Loch Haven Park, but also taking the joy of live theatre on the road serving very special audiences across Central Florida! Our Theatre for the Very Young (TVY) Tour of Yo! Ho! Ho! Let's Go! has brought its playful pirate adventure story to preschool and kindergarten classrooms through an interactive, developmentally appropriate, and highly entertaining piece of theatre designed especially for these audiences.
A growing trend across the country, sometimes also called "baby theatre", TVY has been a goal for Orlando Family Stage for many years. Following the success of early childhood drama classes such as Baby and Me and Stroy Stroll, Orlando Family Stage presented two TVY shows in our 2021-2022 season. In the fall we presented Teddy Bear's Picnic by Ernie Nolan and in the spring, Yo! Ho! Ho! Let's Go by Jennifer Adams-Carrasquillo, both as full productions here at the theater. Audiences are seated close to the action and encouraged to participate in the story telling. Audience members sometimes have to speak, or use a prop, or even join the actors on stage in order to help the story progress.
Actress Emily Lupfer is keenly aware of the impact the tour is having on its very young audience members, "For many of our audience members, Yo, Ho, Ho! Let's Go! is their very first introduction to live theatre. It's such an incredible and rewarding experience to be a part of, and I'm so thankful for it."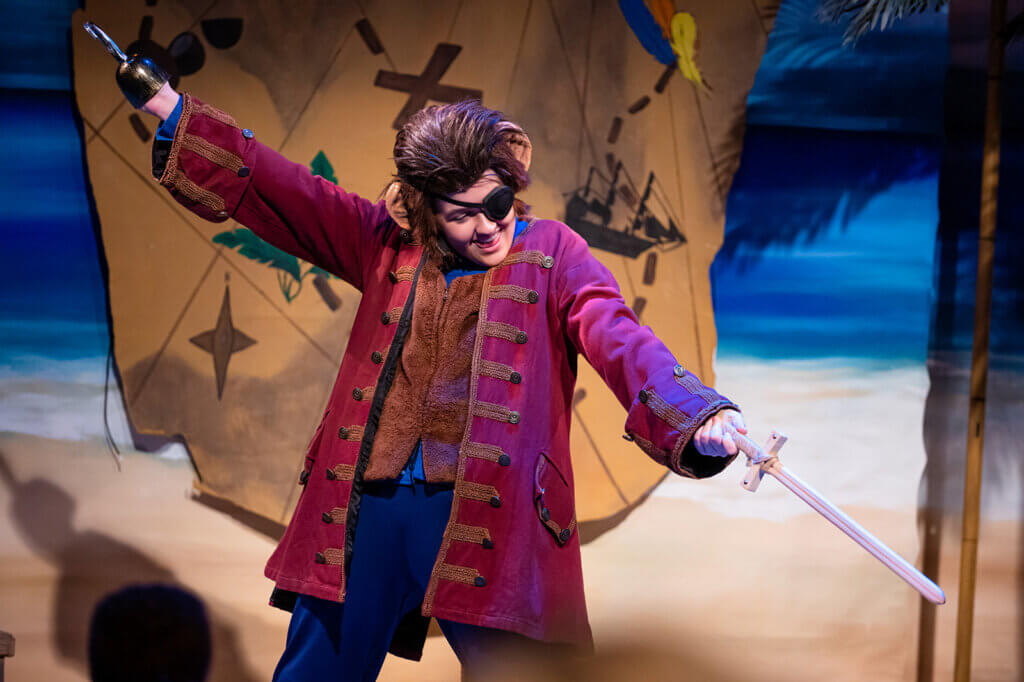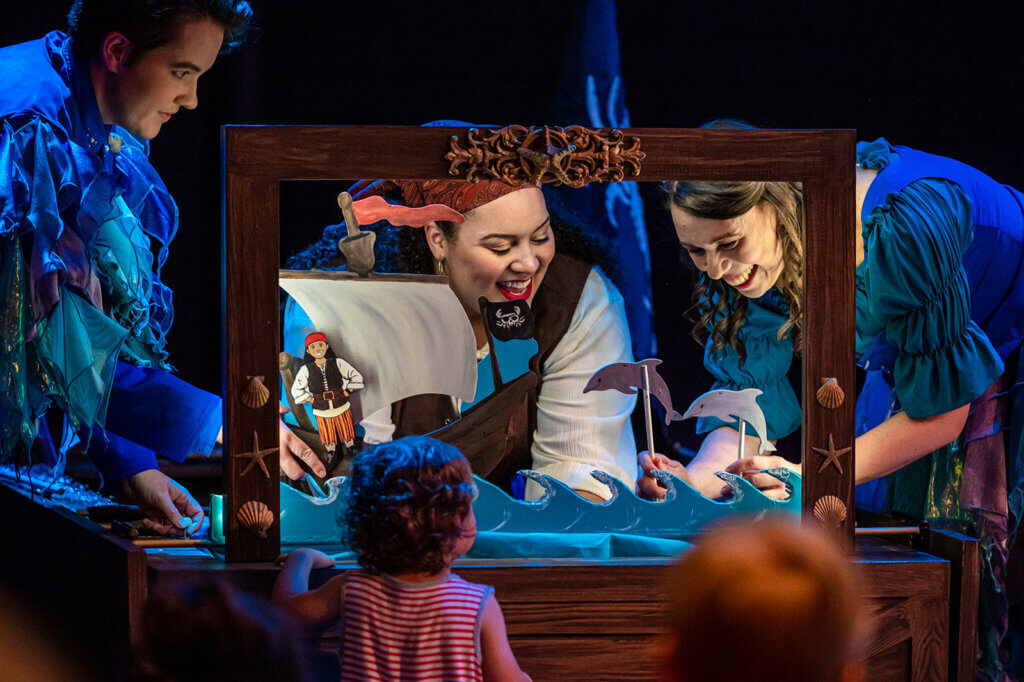 As Orlando Family Stage began our work in TVY, we quickly set our sights on being able to take our second production of Yo! Ho! Ho! Let's Go! on tour. The experiences are designed for very small audiences so in order to make the programming sustainable we needed to find a way to reach more audiences over a longer period of time, and the tour was born!
While working in community spaces with community partners is a long-time and highly valued part of what we do, bringing an entire show out on tour is definitely new and requires continuous thought and attention to detail. Stage Manager, Morgan Polodna manages the cast of three actors and all of the scenery, costumes, puppets, and equipment that go on each tour. "In the early process of designing and making this show come to reality, we thought of all the questions like, how big is the vehicle we are traveling in? What materials are going to be able to last for a long time? What if we are in a smaller venue one day and then in a big venue the next day? Everything is put together like a puzzle that fits inside a van that I get to drive to locations while the cast carpools together and follows behind!"
No two days are alike on tour. Morgan and the cast fully embraced this challenge. They go into each location knowing a little information about where to park, who to talk to, and basics about the room they are performing in. However, anyone who has seen or done theatre before knows that we spend weeks preparing spaces for theatrical productions, so to walk into a space you've never seen before and be ready to perform in about an hour takes a great deal of creativity and quick thinking. "In each venue, we have to adapt differently due to the space of the room, how many kids are in the audience, etc. There are times where the cast and I can talk through what needed to be changed or cut entirely for the show that day, but there are also times where the cast has to think on their feet during the show and thankfully we are a close knit group that we can follow that person's lead with complete trust."
Take a look at these photos of different spaces below and see how the scenic elements shift for the space!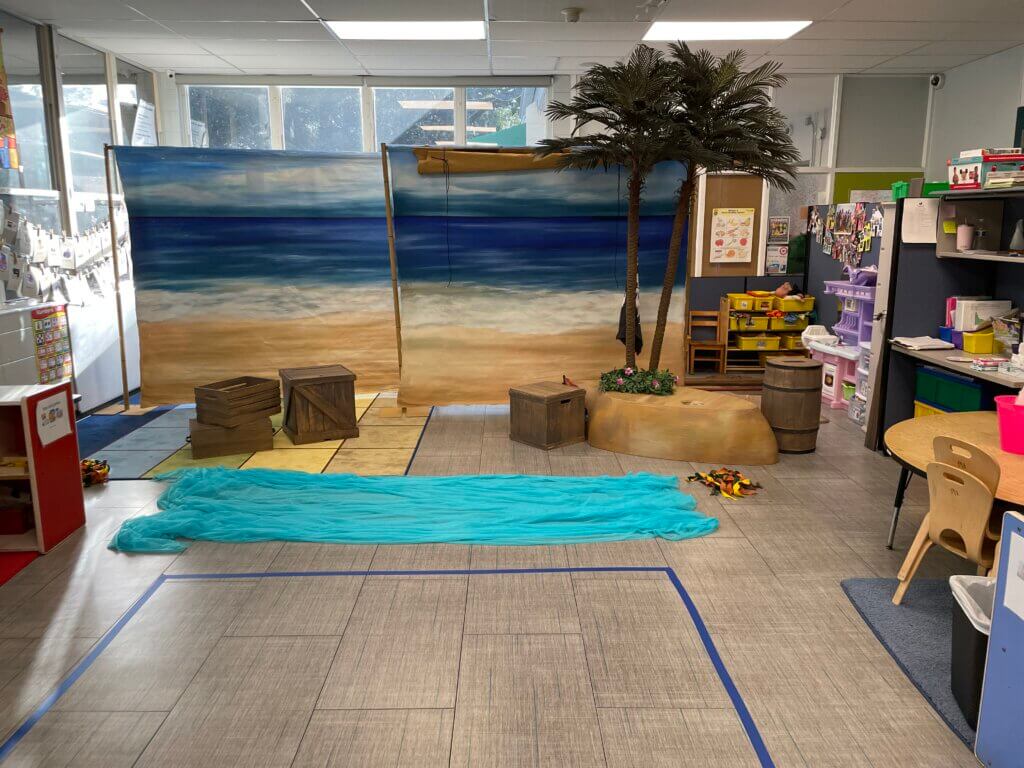 Orlando Family Stage is grateful for our school partners who brought Yo! Ho! Ho! Let's Go! to their preschool classrooms in the first year of the tour including Park Maitland School, Winter Park Day Nursery, and Avalon Elementary. Winter Park Library also held a public performance for families to attend for free. Additionally, we are also thrilled to have partnered with Orlando's Early Learning Coalition to bring the tour to a variety of childcare centers around Orlando. Not only have we been able to reach far more audience members than we could accommodate at the theatre, but a much more diverse group of young people as well.
The cast has been encouraged by the responses from the audiences. Emily describes one of her favorite parts of touring,  "Post-show meet and greets are one of my favorite parts of tour because it's so fun to see the smiles as kids chat with us and ask questions. One of the puppets in our show, Crabbers, particularly loves all of the fists bumps and shell scratches he gets from audiences." Morgan agrees, "I love the little giggles and the excitement…Our show is super interactive, and hearing the kids respond to the story – both verbally and by participating throughout the show – is such a joy!"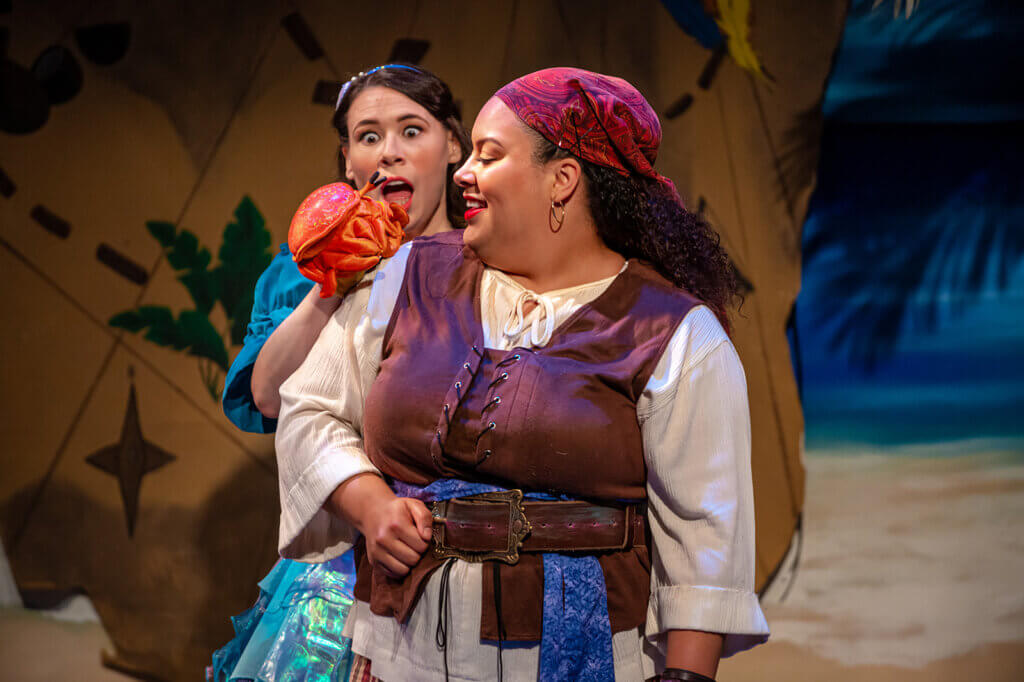 Look out for our upcoming performance of The Day I Danced with Dinosaurs this spring and hopefully a tour of this production next fall!
In the meantime, join us for our other TVY programming: Baby and Me for children ages 0-2 and a caregiver and Story Stroll for children ages 3-4 and a caregiver!