Orlando Family Stage ANNOUNCES
2021–2022 SEASON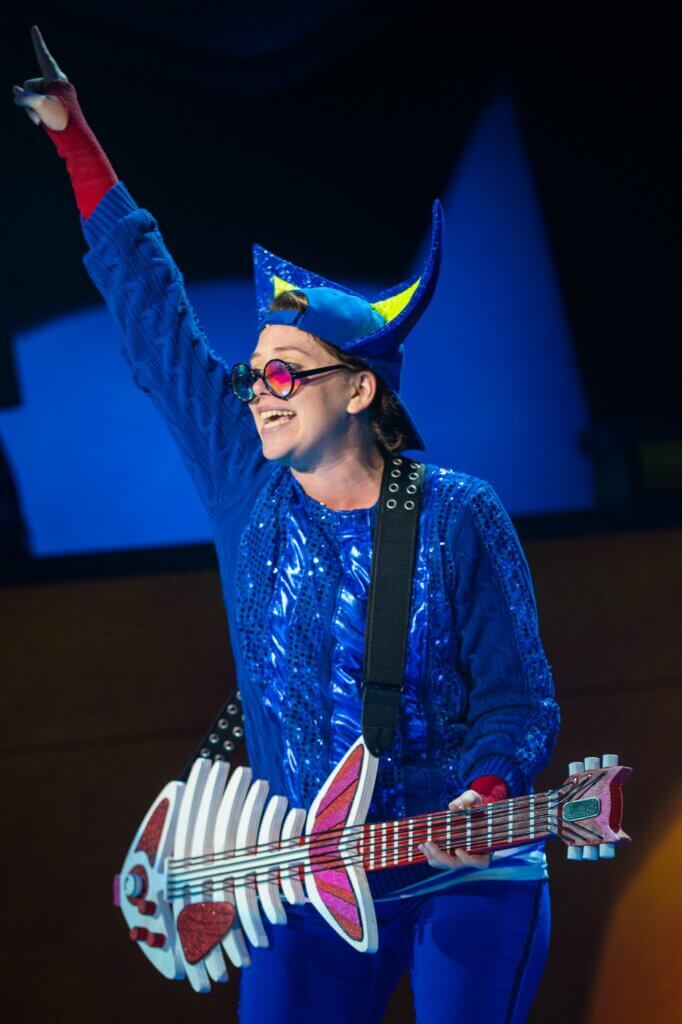 PRESS RELEASE: Orlando, Fla.  (July 29, 2021) – Orlando Family Stage (Orlando REP), in partnership with UCF, is proud to announce the 2021 – 2022 Season.
The season opens with a theatrical one-man version of the classic The Legend of Sleepy Hollow (October 8 – 31, 2021) just in time for Halloween. A favorite Orlando Family Stage actor, Stephen Pugh, takes on multiple characters as he vividly takes us back to the quaint village of Sleepy Hollow, where stories of wonder and spookiness surround the legend of a headless horseman and schoolmaster Ichabod Crane. Derek G. Martin and Jesse M. Sullivan adapted this Washington Irving classic for the stage. The Legend of Sleepy Hollow is supported by Orange County Arts and Cultural Affairs.
The Secret Agency (October 22 & 23, 2021) is Grammy-winning hip-hop with a solid gold soul! Tapping into their Grammy-winning original catalogue from rapper and hip-hop artist, Secret Agent 23 Skidoo, this electric ensemble combines the highly literate lyrical style of golden age hip hop with the raw emotional power of funk. Joined by amazingly acrobatic bboy dancers, this interactive and empowering experience blurs the line between kids' music, young adult narratives, and universal storytelling that draws from Jim Henson and George Clinton in equal measure. Secret Agent 23 Skidoo will also lead a hip-hop writing workshop. The Secret Agency is supported by the National Endowment for the Arts, Orange County Arts and Cultural Affairs, and United Arts of Central Florida.
This holiday season is guaranteed to be a ball with the Broadway version of Rodgers & Hammerstein's Cinderella (November 12 – December 19, 2021)! This contemporary take on the classic tale features beloved Rodgers & Hammerstein songs, including "In My Own Little Corner," "Impossible/It's Possible" and "Ten Minutes Ago," alongside an up-to-date, hilarious, and romantic libretto by Tony Award nominee Douglas Carter Beane. In this version, Cinderella takes charge of her own destiny! Rodgers & Hammerstein's Cinderella is supported by Orange County Arts and Cultural Affairs.
The New Year begins with Bob Marley's Three Little Birds (January 28 – February 20, 2022), a jammin' musical featuring the timeless music of Bob Marley and based on the children's book by his daughter Cedella Marley and adapted for the stage by Michael J. Bobbitt. Ziggy's afraid to leave the house. He is too busy worrying about tropical storms, evil spirits, and the sneaky, hair-grabbing trickster, Duppy. But, with the help of his feathered friends, Ziggy learns that "every little thing is gonna be alright!" The legendary reggae artist's timeless message of peace and love is shared with a new generation of songbirds. Bob Marley's Three Little Birds is supported by the Universal Orlando Foundation.
By popular demand, award-winning magician and comedian Tony Brent returns with Pip-Squeak: An Anti-Bullying Magic Show (January 10 – 15, 2022). Because of his small size as a child, Tony was bullied in the cafeteria, in the gymnasium, on the playground, and generally anywhere there were no adults present. Now using comedy, amazing magic tricks, juggling, and a coat-rack loaded with costumes, Tony gently and humorously teaches children how to cope with being bullied and to stand up for one another.
Closed prematurely in 2020, the favorite children's book and television character created by James Dean and Kimberly Dean returns to the stage in the musical Pete The Cat (February 18 – April 10, 2022), written by Sarah Hammond and Will Aronson. The minute the groovy blue cat meets The Biddles, he gets the whole family rocking- that is, except for Jimmy, the most organized second grader on planet Earth. When Jimmy draws a blank in art class during the last week of school, it turns out Pete is the perfect pal to help. Join Jimmy and Pete on an adventure of friendship and inspiration, all the way to Paris and back in a VW Bus! Pete the Cat is supported by the Kiwanis Club of Orlando Foundation and KPMG.
The season concludes with an all-new musical, Disney's Freaky Friday The Musical (One-Act Edition)(April 1- May 8, 2022). When an uber-organized mother and her spontaneous teenage daughter magically swap bodies, they have just one day to put things right. By spending a day in each other's shoes, Katherine and Ellie come to appreciate one another in a way they never could have imagined. Based on the beloved novel by Mary Rodgers and the hit Disney films including the recent Disney Channel Original Movie, Disney's Freaky Friday (One-Act Edition) features a book by Bridget Carpenter, co-executive producer/writer on the beloved TV hits "Friday Night Lights" and "Parenthood" with music and lyrics by Tom Kitt and Brian Yorkey, the Tony and Pulitzer Prize-winning composers of Next to Normal. Disney's Freaky Friday the Musical (One-Act Edition) is supported by Disney, OUC – The Reliable One, and The Three Isabels.
THEATRE FOR THE VERY YOUNG SEASON
Theatre for the Very Young at Orlando Family Stage is created specifically for 1- to 5-year-olds and is an interactive, multi-sensory, developmentally accessible experience that encourages caregiver interaction and creative play. The theatrical adventures are about 30 minutes in length. Theatre for the Very Young at Orlando Family Stage is supported by Orlando Health Arnold Palmer Hospital for Children.
Theatre for the Very Young: The Teddy Bear's Picnic (August 7-29, 2021) Meet Mama Bear and Baby Bear as they invite you to their special picnic in the woods, and interact with their woodland friends! Written by Ernie Nolan.
Theatre for the Very Young: Yo, Ho, Ho! Let's Go! (March 5-27, 2022) Follow the map and discover an island full of pirate treasure and fun adventure! X marks the spot! Written by Jennifer Adams-Carrasquillo.
YOUTH ACADEMY SEASON
The 2021-2022 Season includes professionally-produced shows featuring students of Orlando REP's Youth Academy.
Magic Tree House: A Ghost Tale for Mr. Dickens Jr.  (December 10 – 12, 2021) is an adaptation of Mary Pope Osborne's best-selling, award-winning fantasy adventure Magic Tree House book series. Jack and Annie's tree house takes them to Victorian London in this holiday-themed story, where they learn the importance of charity and kindness through their friendship with legendary author Charles Dickens.
The spring brings the world premiere of a new musical, Pickle Chiffon Pie (April 29-May 1, 2022). For the first time in Orlando Family Stage history, its Youth Academy is embarking on the development of a brand-new musical! Students will be the world premiere cast and have a direct influence on the growth of the script, score, and story of this tale based on the children's book Pickle Chiffon Pie by Jolly Roger Bradfield with music and lyrics by Jeff Artzi and Daniel Tenenbaum, with a book by Michael Bobbitt.
In addition to the Youth Academy productions, Orlando Family Stage presents the 19th Annual Writes of Spring: In My Wildest Dreams, comprised of winning entries from school children throughout Central Florida, the Teen Perspectives Lab, along with a host of camps, classes, initiatives, and workshops.
Orlando Family Stage also provides ASL-interpreted shows and Sensory-Friendly performances, specially modified for individuals with Autism, sensory differences, and other special needs who process sensory information differently. ASL-interpreted shows are sponsored by the Kiwanis Club of Orlando. Backstage tours are held on select dates, for which tickets will soon be available.
Public performances of Orlando REP's season productions are Saturdays and Sundays, with tickets starting at $15. School matinee performances are Mondays, Tuesdays, Thursdays, and Fridays for most shows. Memberships are available beginning August 16, 2021 with single tickets on sale three weeks prior to the opening of each production. Members get early access to tickets! For more information about Memberships, Field Trip Reservations, or Orlando REP's 2021 – 2022 season, please call 407.896.7365 or visit www.orlandorep.com. Auditions for Orlando REP's professional shows are taking place in early September. Information can be found at www.orlandorep.com.
Orlando Family Stage is generously funded in part by the University of Central Florida, Orange County Government through the Arts & Cultural Affairs Program, United Arts of Central Florida, host of OrlandoAtPlay.com and UAArtsEd.com, the State of Florida, Department of State, Division of Arts and Culture, and the Florida Council on Arts and Culture.