Orlando Family Stage (The REP) presents Curious George: The Golden Meatball (February 27 – April 9, 2017), presented by Clear Channel Outdoor.
Join Curious George, the inquisitive, lovable monkey-star of books, movies, and the award-winning PBS television show in a delightful new musical. All-You-Can-Eat Meatball Day comes just once a year, and George could not be more excited. With George involved, things always get a bit interesting, and on this day, all roads lead to Rome for the Golden Meatball Contest! Along the way, George discovers the secret ingredient known by all the best chefs and shares it with all his friends!
"This story is one that shares Curious George's irresistible qualities — ingenuity, opportunity, determination, and curiosity in learning and exploring, all while discovering to the meaning of 'putting your heart' into it", says director Steve MacKinnon. "This little monkey is so popular that his original story has never been out of print, and Curious George has become one of the most beloved and most recognizable characters from children's literature."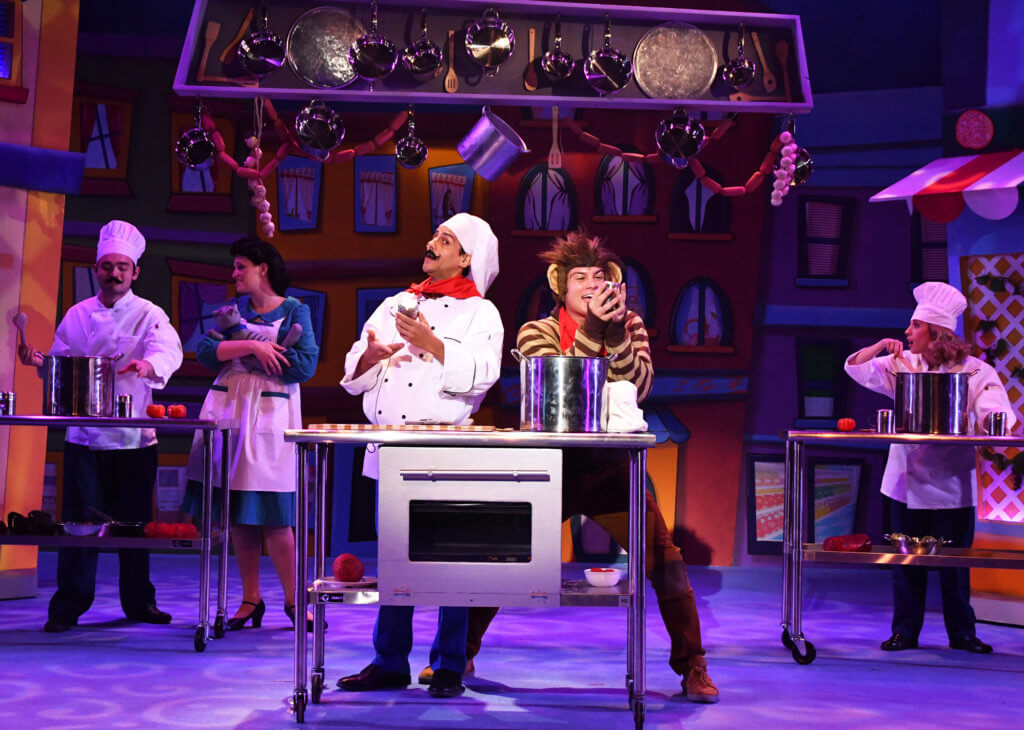 Curious George: The Golden Meatball features music by John Kavanaugh with book and lyrics by Jeremy Desmon, and is based on the books by Margret and H.A. Rey and the Play owned by Universal Stage Productions.
Curious George: The Golden Meatball is now playing Saturdays and Sundays from February 27 through April 9, 2017 at 2pm and 5:30pm. Tickets are $20 for adults, $18 for students, seniors (55+), and members of the military with valid ID, and $14 for the youth (ages 3 to 17).
The REP also offers special performances of Curious George: The Golden Meatball. A Sensory-Friendly presentation for children with autism or other sensory processing disorders and special needs is March 12 at 5:30pm. There is an ASL performance, translated by an American Sign Language Interpreter, on Monday, March 13 at 10:30am. Backstage Tours are offered on March 11 and April 1 following the 5:30pm performance. Tickets are $5 per person and space is limited, so make sure you reserve your spot early in advance at the Box Office!
The cast stars Domenic Servidio as Curious George and Taylor Wright as The Man With The Yellow Hat, along with Cat Claus, Melanie Farber, Connor Padilla, and Stephen Pugh.
Curious George: The Golden Meatball is directed by Steve MacKinnon (also serving as Music Director) with choreography by Spencer Morrow, scenic design by Brian Dudkiewicz, costume design by Wes Jenkins, lighting design by Eric Furbish, sound design by Anthony Narciso, props design by Tara Kromer, and stage management by Jessica Lyn Karnes.
All performances of Curious George: The Golden Meatball take place at Orlando Family Stage, located at 1001 East Princeton Street, Orlando, FL 32803. Tickets may be purchased online, over the phone, or at the Box Office. Please visit www.orlandorep.com or call 407-896-7365 for more information.
 ###
About Orlando Family Stage | The REP is a professional theatre with a mission to create experiences that enlighten, entertain, and enrich families and young audiences. In addition to productions, The REP conducts community engagement initiatives. The award-winning REP Youth Academy provides classes and workshops for children, along with professional development opportunities to classroom teachers. Housed in a three theatre complex in Loch Haven Park, The REP is also home to the University of Central Florida's MFA in Theatre for Young Audiences graduate program. The REP is Florida's only professional theatre for young audiences.
###