11/9/2020
Joni Newman
One of the most exciting projects I've been able to work on with the Orlando Family Stage was as dramaturg for the production of Eric Coble's Vote?. Dramaturgy is always exciting, but Vote? provided so many exciting avenues through which to explore the history of voting rights in our country, especially during such a dynamic election year. 
What is the role of a dramaturg? Typically, a dramaturg begins working by exploring the question "why this play now?" First, they work with the production team (including the directors, choreographers, designers and actors) to provide context for the work of preparing a show for audiences. This includes finding background information on real-life events that may have inspired a play and identifying primary sources like pictures or music that can provide a foundation for the entire team. For Vote? this task was pretty monumental because the events of the play take place over several hundred years and in several different locations. 
A dramaturg also seeks to provide audiences with information to help their understanding of the events of a play. Many of these resources are still linked on this website, where you can read more about the characters in Vote?, learn more about the events depicted in the play, and be connected with organizations that engage in community advocacy that reaches beyond election season. Often, dramaturgy provides a sort of call-to-action for audience members to do activate the themes of a play with further conversations and resources to learn more.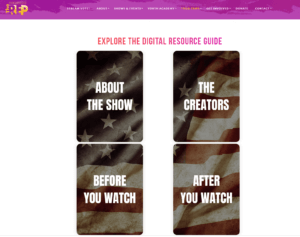 Ultimately, the job of a dramaturg is to ask many questions. What I found personally exciting was to find information that could fill in some of the gaps of history not covered within the show. Vote? helps us to see many well-known historical figures in the middle of some of the most exciting and important work that they did. While Nicole jumps from decade to decade, lots of work happened in between! Finding information to fill in those gaps was exciting for me. I also enjoyed finding resources to help make political involvement less complicated and frightening. It can be so difficult to know where you stand on different issues in politics right now, especially when information gets so frustrating to sort through in the many places we get our information now. If you want to learn more about political issues with language that's much plainer and straightforward, be sure to check out our list of digital resources, most of which have information that will be relevant even outside of election season. You can also check out our list of books where you can learn more about different historical figures in and out of Vote?, all ranked by the age group of a reader. 
| | | | |
| --- | --- | --- | --- |
| Joni Newman, UCF Graduate Student | Dr. Don Davidson, Rollins College | Emily Freeman, Orlando REP | Bailey Clark, Rollins College |
Another role of dramaturgy is to help connect not just audiences with the content of the show, but with the community as a whole so that the ideas of messages of the arts extend beyond showtime. One way we were able to do this with Vote? was through a partnership with Rollins College in Winter Park, FL. Rollins has a robust Center for Leadership and Community Engagement. Through volunteering and partnerships, students are given the opportunity to connect and work for nonprofits like us. Emily Freeman, our Director of Community Partnerships, met with Bailey Clark, Associate Director of the Center for Leadership and Community Engagement. One of the programs she supports out of the Center is called the Democracy Project (find out more here). They immediately made the connection that students passionate about civic engagement and voting would enjoy seeing the show. From there, a night of online theatre and discussion was born! 50 students, staff members, and faculty at Rollins watched Vote? and then met with me, Emily, and Dr. Don Davison, a member of the Department of Political Science at Rollins College for a post-show talk-back. Topics included: voter suppression, what was on the ballot in Florida's local elections, and where voters can look to find reliable information as they make their voting decisions. It was a dynamic evening and an opportunity to extend the reach of the show to an unexpected audience. Learning from a professor and hearing the students' rich questions proved to be beneficial for me as well. 
One of the biggest lessons that Vote? teaches is that political activity extends far beyond presidential elections. Our government structure is such that there are many ways to bring about positive change. We hope that now election day has passed, the message of Vote? is still relevant: change is possible when people persist.
See more about what's currently playing at Orlando Family Stage here!