2/17/2023  |  Michael Sweezey
Kwame Alexander
"The mind of an adult begins in the imagination of a child."
Kwame Alexander is an American poet, educator, author, and executive producer. He is a #1 New York Times bestselling author of more than 30 books and has received numerous awards and accolades including the Coretta Scott King Author Honor. Two of his books were transformed into a musical by the Kennedy Center, and another one of his books is becoming a TV series on the Disney Channel! Needless to say, Mr. Alexander is a very VERY busy guy. His mission is to "change the world one word at a time," and he is already on his way to accomplishing that!
Poetry
One of the mediums that he chooses to work with is poetry. In the video below, he explains how powerful the use of poetry can be; even describing it as "… the human soul distilled into very few words." You can feel his excitement while speaking of the form!
Reading poetry helps us better understand words, emotions, and each other. Alexander says he tries to write poems and stories that are very personal to him, but make them your business. This helps the reader better understand the characters, their feelings, and relate the content to what a young person may be going through in their own life.
This is also intentional to help engage more young people with reading. If students can see themselves in more stories and characters, then reading becomes more accessible, and is a more exciting activity to pursue! See how he compares books to amusement parks in the video below!
Representation in Children's and Young Adult Fiction
Alexander's books feature characters in all varieties, including two friendly frogs in Surf's Up, and the boys from The Crossover, Josh and J.B. While illustrators have depicted these characters as black, Alexander says students see themselves in the story – that children "all believe I am writing about them. Why is this so much harder for the grown-ups?" He explains in this New York Times article that, while he found himself in famously black stories like Spin a Soft Black Song, limiting children to only seeing and reading characters of their own race inhibits their ability to "…connect in meaningful ways to a global community, to people who might look or live differently than they."
The success of Alexander's book, The Crossover, has garnered widespread attention and acclaim. In 2015, the book won the Newbery Medal, awarded by the American Library Association, and Alexander won the Coretta Scott King Author Honor Award, given annually to outstanding African American authors of books for children and young adults that demonstrate an appreciation of African American culture and universal human values.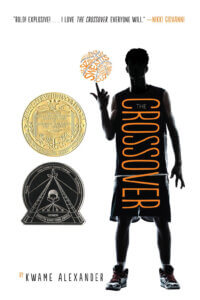 The crescendo of attention peaked in January 2022 when Disney Plus announced that the book will be transformed into a live-action series premiering in April 2023! Alexander will serve as a writer on the series, as well as an executive producer alongside NBA superstar LeBron James. 
His most recent novel, Swing, tells the story of two best friends in baseball and jazz that have to navigate growing up, pursuing their passions, and social activism in their community.
Alexander's lyrical poetry continues to inspire young people in all walks of life, and we look forward to everything coming next from the renowned author!
"Changing the world one word at a time!"