2/17/2023  |  Shonda Thurman
Glenis Redmond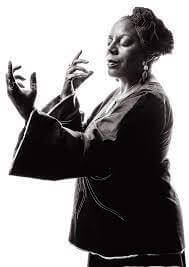 "Poetry is the mouth that speaks, when all other mouths are silent"
Glenis Gayle Redmond, I mention her middle name because it in itself waxes eloquent in how it came to be. It is literal in the fact that not only is how we say the winds blow, but describes how Glenis moves through the world, as referenced in her praise poem New Wings.
"I am birth from mother earth, deep rich and free." That earth was on Shaw Air Force Base in Sumter, South Carolina.
Inspired Beginnings…
"Got up this morning feeling good & black.  
Thinking black thoughts 
Did black things
Played all my black records and minded my own black bidness 
Put on my best black clothes 
Walked out my black door And Lawd have mercy White Snow!"
In hearing these words, written by Jackie Early and read by Yolanda Walker, the poet in Glenis awakened.  
Through the recollection of her family, Glenis was already a poet in the making and when she wasn't engrossed in her favorite characters Pippi Longstocking and Ramona the Pest, or dancing to Motown, she was reading, but little did she know that her reading would be the beginning of her writing.
Fun Fact: Glenis became the First Poet Laureate of Greenville, South Carolina
Glenis is also a Kennedy Center Teaching Artist, a Cave Canem Alumni, has authored six books, some of which include The Listening Skin, Under the Sun, and Praise Songs for Dave the Potter.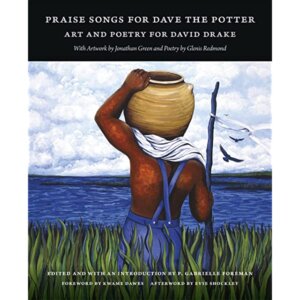 She has spent almost three decades touring the country as a poet and teaching artist. Since 2014, she has served as the mentor poet for the  National Student Poets Program through Scholastic Art and Writing Awards, prepared young poets to read for First Lady Michelle Obama at the White House, and can be seen here at Ted X Greenville teaching the use of poetry to heal.
Poetry as Healer
Influenced by her background as a counselor, she began to use poetry as a way to draw at risk youth out of their shells they have built around their hearts, " helping them to reach out to the world and express themselves."
Using her words and the words of other poets Bruised A Poem for At Risk Teens was written. 
What The People Say
If poets make words bloom, Glenis Redmond is a master gardener bringing untended history back to life in verse.  –P. Gabrielle Foreman, Ned B. Allen Professor of English, Black Studies and History, University of Delaware
Some books of poetry resonate so profoundly with us that they sing to the surface our own stories, helping us understand them within the historical and personal context of another poet's experience. —Kathryn Stripling Byer, former Poet Laureate of North Carolina and author of Descent
I have had the pleasure of meeting Glenis and the feeling of freedom and healing was in every drop of time I was gifted to spend with her. –Shonda L Thurman, Curriculum Manger at Orlando Family Stageertory Theater.
Glenis has been a guest artist in Orlando REP's Professional Development for Teachers workshops. Contact [email protected] for more details on professional development for teachers!