2/8/2022
Debbie Allen
"In places around the world where we do not speak the same language, or even understand that we pray to the same God, we dance to the same beat, that is "the one".
~Debbie Allen
Debbie Kay Allen was born January 16th, 1950 in Houston, Texas to a poet mother and an orthodontist father. Winner of three Emmy Awards, two Tony Awards, recipient of ten Image Awards, and a Kennedy Center Honor, among many others, she is everything under the sun and then some. When you hear her name it is synonymous with dance and choreography. She has never known a time when she wasn't dancing and has become the ultimate "dance mom" to a world of performers. 
Rejected by North Carolina School of the Arts because of her body type, Debbie's early days as a dancer were not as easy as one might think, especially seeing her career now. 
Fun Fact:  She was awarded an honorary doctorate from North Carolina School of the Arts on September, 19 2021!
"But out of limitations comes creativity."
~Debbie Allen
Debbie used her experiences as a young dancer to inspire others and wrote two picture books! Her first book,  Dancing in the Wings published December 2003, is loosely based on her life. Dancing in the Wings tells the story of Sassy, a girl who worries she can not do ballet because her "too long legs,  too big feet and, too big mouth", will keep her from her dream.  Her second book Brothers of the Knight published December 31, 2001, is a retelling of the classic Twelve Dancing Princesses.  With colorful illustrations and an energetic text, it asks the question: Why do Reverend Knight's twelve sons' sneakers keep showing up torn to shreds every morning?
"You want fame well fame costs and right here is where you start paying in sweat"
~Lydia Grant
If you recognize the quote above then you may know that Debbie Allen is also a actress/director. Her talents have been seen on film, television, and stages for over four decades, but she is most remembered for her role as dance teacher Lydia Grant in the television show Fame. Not only was Debbie a lead character in the series, but directed several of its episodes.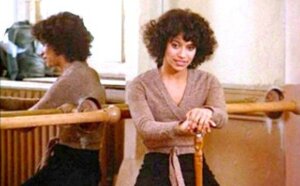 Fun Fact:

 Fame just celebrated a 40 year anniversary!

Vocabulary:

Episode-

each of the separate installments in which a television series is divided.
Ms. Allen's contributions to the world of entertainment touch every part of the globe.  Her students are now teachers, her television and directing credits can be seen in syndication, every Thursday night on Grey's Anatomy, or at her yearly production of Hot Chocolate Nutcracker a hip hop version of the classic Christmas story The Nutcracker.  The Debbie Allen Dance Academy is a permanent fixture in Los Angeles, CA where you can see her biggest accomplishment, giving dance back to the community. 
More blogs featuring current Black artists making history are coming all month long!