2/15/2022
Amy Sherald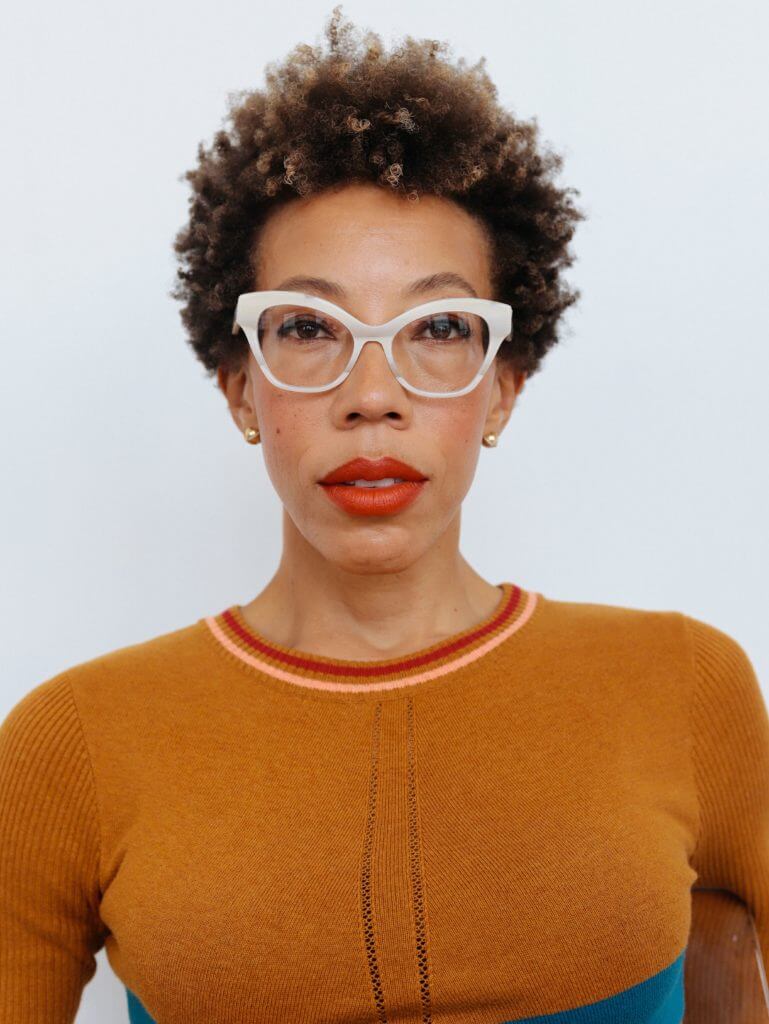 As theatre makers, we are always striving to make art with impact. But, we are not the only artists who tell stories. Visual artists chronicle everyday life, document history, make political statements, inspire empathy, and participate in the imagining of a more just world. In thinking of a visual artist who manages to accomplish all of these actions at once, Amy Sherald comes into focus. Her portraits do more than serve as powerful representations of the everyday Black experience, they carve space for dignified and empowering narratives that are not seen in the traditional fine art scene.
About Amy Sherald's style…
"Born in 1973 in Columbus, GA, and now based in Baltimore MD, Amy Sherald documents contemporary African-American experience in the United States through arresting, otherworldly portraits. Sherald subverts the medium of portraiture to tease out unexpected narratives, inviting viewers to engage in a more complex debate about accepted notions of race and representation, and to situate Black heritage centrally in the story of American art.
In particular, Sherald is drawn to the way in which African-American family photographs served as intimate, personal portraits, during a time when only white individuals or groups were being iconized in paintings. While her subjects are always African-American, Sherald renders their skin-tone exclusively in grisaille – an absence of color that directly challenges perceptions of black identity.
Sherald offsets this against a vibrant palette: eye-popping clothes and ephemera float in tension against abstracted backgrounds. The depth created by the pastel backgrounds are not confined to any specific time or space, but seem to exist beyond the facts of recorded history and national borders. She defines the subjects of her portraits simply as ephemera float in tension against abstracted background to American identity. The individuals in her paintings are deliberately posed, dramatically staged, and assertive in gaze. Their expressiveness, and the variations in their gestures, clothing, and emotional auras reinforce the complex multiplicities of African-American existence. But the persistent sense of privacy and mystery maintained in Sherald's work requires viewers to ponder the thoughts and dreams of the Black men and women she has depicted."  (https://www.hauserwirth.com/artists/11577-amy-sherald/)
Fun Fact: Stepping out of her traditional approach to portraiture, two of her most recent works have brought her significant recognition. First, she was commissioned to paint the official portrait of First Lady Michelle Obama. Amy Sherald was selected by Michelle Obama who was Sherald's first famous subject. The portrait was unveiled in February 2018 and hangs in the National Portrait Gallery in Washington, D.C..
Even further outside of her practice, Sherald made the powerful statement of painting Breonna Taylor, her first painting of someone who is no longer living. In the documentary, "Bree Wayy: Promise, Witness, Remembrance," the story of the commission and its impact on Louisville is shared. The care she took to celebrate Breonna's life and represent her in this powerful portrait started with talking to Breonna's mother, Tamika Palmer. Sherald wanted to know Breonna and what made her feel beautiful. Her mother shared stories, videos, and images of Breonna. Her boyfriend and intended fiancé shared the picture of the ring he'd hoped to give Breonna. Finally, she invited a Black designer, Jasmine Elder, to help her find the perfect dress. "I decided to go with turquoise, and then with a background that was the same color, because it really allowed you to focus on her face and look in her eyes," said Sherald, whose subjects gaze directly at the viewer. "She has this kind of otherworldly feel, kind of ethereal, very peaceful." The result is a stunning and devastating image of a young woman who's story continues to ignite a fight for justice. 
After its residency at Speed Art Museum in Louisville, it now hangs in the the National Museum of African American History and Culture (NMAAHC) in Washington, D.C., for all to visit and witness. "Lonnie G. Bunch III, the founding director of the National Museum of African American History and Culture, who is now the Smithsonian's secretary, said Sherald's painting of Taylor "captured both the joy and the pain of this moment. This is a story that needs to be told and needs to be retold," Bunch added. "If it went into a private collection, it might get a little attention and then disappear. This way, generations are going to understand the story of this woman and the story of this period." (New York Times)
"I walk into my studio remembering that every day, what a privilege it is to be able to make these paintings to create something for my people, for this country, connecting myself to that kind of imagery, to self-satisfaction, and dignity and creating a narrative that is for the most part non-existent in the American art canon." 
Keep the conversation going: 
Research and look up one of Amy Sherald's portraits. 

Describe the details (colors, objects, clothing). Answer the question, "what do you see", but keep going! What else do you see? What else do you see? What else do you see? Fill a page with as many details as you can. 

Inspired by all of the details and observations, what do you think the subject is thinking, feeling, saying? Who are they? What do they do? Where do they live? 

Create your own portrait of someone from your everyday life – who are they and why did you select them? What do they represent about your own identity, community, or generation?
More blogs featuring current Black artists making history are coming all month long!