9/15/2022
Meet Lighting Designer Larry Rodriguez!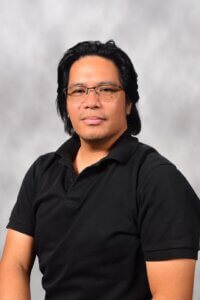 The recipient of numerous scholarships, workshops, and training grants, spanning the realm of technical theater, Larry has over twenty years of experience in the entertainment industry. He has learned from, collaborated and developed partnerships with some of the industry's finest in the United States and Asia. Specifically, he was selected to apprentice under Ms. Naomi Matsumoto and the Philippine Educational Theater Association, where he is now a senior member artist and teacher. Internationally, Larry's work in theatre and photography (including Lighting Design, Sound Engineering, and Projection) has been featured in over one hundred professional stage, television, and music video productions. In the United States, he has held numerous positions as a technical director, lighting designer and production manager, while representing the United States and the Philippines in international competition and theatre festivals. Since 2005, Larry has enjoyed working with: Seattle Musical Theater, Bainbridge Performing Arts, Next Stage, Holy Names Academy Theater and Film Department, Mad Cow, Orlando Shakes and, most notably, his tenure as Lighting Designer and Technical Production Manager of Seattle's Book-It Repertory Theater. Currently, Larry resides in sunny Orlando, Florida where he has enjoyed working at both Universal Orlando Resort and The Walt Disney Company. Currently, he sits on the Lighting Design bench for Walt Disney World's Parks and Resorts making dreams come true for corporate and private events, concerts, and live productions. 
What inspired you to become a theatre maker?
Interestingly, I was inspired by a college crush, an actress in my same year at New Era College in Manilla. The show was Miss Saigon and I plotted to spend time with her by getting involved somehow, however I was horrified by acting. So, I attended a backstage crew interest meeting, and when they asked if anyone wanted to "do lighting" my hand, as if by itself, shot up. Chosen, I had no idea what I was doing. Knowing nothing about lighting or lighting design I undertook what I didn't know at the time would be a huge task. It was a great show, just poorly lit.  Ultimately, no relationship began, but my wonderful and fruitful career began in theatre.
What kind of education prepared you for this career?
As I mentioned, I attended the New Era College for Mass Communications, which provided a great venue to start off in. I was later invited by the Philippine Educational Theatre Association (PETA) to join as an applicant. I progressed through their highly edifying 5 stage process, ultimately leading to my becoming a senior artist/teacher and member. PETA then sent me to apprentice under the tutelage of Naomi Matsumoto in Japan for 2 years. This was the culmination of everything I knew about theatre combined with the ancient practice of traditional Japanese Ikebana method as Naomi taught.
What school subjects that our students may be studying do you use everyday?
When studying nature and history, a student should feel inspired. The world's best teacher is nature, and how humans interact with it is documented as history. I suggest students pay close attention in history class if they love the theatre. They will learn all the fundamentals they need in order to layer the appropriate tones of modern lighting to adopt a truer and more immersive feel. Which has the power to transport an audience into another timeline. The only way to be truly convincing as a designer, is by studying what really happened, and learning for yourself how to demonstrate what could have really happened. 
Can you describe how you use lighting to help the audience know what is present day and what is a memory?
I try to tap into the audience's association with how they experience the real world. The brightness and crisp nature in which we would experience the world in a practical setting being present day. When we drift into the surreal, or a memory, it's almost as if the viewer has slipped off their seeing eyeglasses. The lighting softens, warmer tones and realism seem to fall toward cooler and purple hues. The scene is familiar, but more open to the audience's interpretation. In a way, there is less there to look at, but more for the mind to fill. 
What is your favorite part about being a Lighting Designer?
There is functional lighting, the kind we use to see performers on stage or even to read a book, and there is true artistry. This is what I look forward to, in as many instances that I can apply it. Lighting that has honed in on the feel and emotion of a scene and works to amplify what is happening on the stage. These are my favorite moments of productions, and my career as a whole. 
How did you collaborate and draw inspiration from the director and other designers for Locomotion?
I often ask each director I work with to reference to me a photograph or painting that most closely represents how they see the production. From there, I reference that photo as a jumping point. Translating color, feel, shadow and even the brightness overall to what you see on the stage. In addition, I work closely with the scenic and costume designers. I find that communicating early and often with these key departments helps to dig up physical elements from windows and fireplaces to the ballroom attire actors and actresses may wear. A key point I work off of, is the importance of lighting the scene and not the set it takes place on.
What are three words you would use to describe this production?
Hope. Imagination. Family.
Click below to get your tickets for Locomotion, The Play!