September 8-14 marked the 2019 Arts in Education week sponsored by Americans for the Arts! So of course, our Education team spent their week leading Professional Development sessions equipping teachers with the tools of theatre to improve their teaching, and in turn, engage their learners in a new way!
According to Americans for the Arts, 72 percent of business leaders say that creativity is the number one skill they are seeking when hiring, and as teachers look to prepare their students to do the jobs that computers cannot do, many are utilizing the arts to build students' problem-solving, collaboration, and critical thinking skills. Orlando Family Stage aims to help teachers do just that.
Through our partnership with the John F Kennedy Center for the Performing Arts and Orange County Public Schools, Orlando Family Stage recently kicked off their year of highly sought after Engaged Learning through the Arts (ELTA) workshops. Since 2012, Orlando Family Stage has been leading the way in bringing Arts Integration to schools in Orange County.
The first event of the year included model lessons in OCPS classrooms and a professional development session for teachers after school with Kennedy Center Teaching Artist, Karen Erickson. Her workshop, Drama: The Missing Link in Teaching Literacy, invites teachers to transform language arts lessons into active, student-centered explorations of word choice, fluency, comprehension, and characterization through introducing drama strategies alongside their English Language Arts curriculum goals. "As a teaching artist whose preferred medium is mixing literature and the stage, Karen offered so many simple and smart ways that I can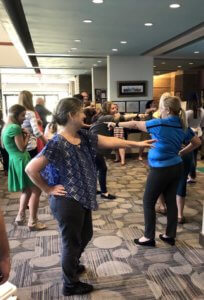 make my work deeper and more impactful," says UCF Theatre for Young Audiences graduate student Brittany Caine, "As a facilitator, she managed to create an atmosphere that mixed professionalism and the real feeling of a classroom: we, her students in the moment, felt like both learners and educators."
During the day, Ms. Erickson visited classrooms at Cypress Springs Elementary School where she modeled an arts integrated lesson while several classroom teachers observed. She shared the innovative ways drama strategies such as pantomime and tableau can be utilized to deepen reading comprehension of short stories and poetry. Seeing a master teacher work in real time with actual students is an ideal learning situation. Anything can, and usually does happen. Seeing a teacher manage the give and take with students as they learn takes some of the mystery out of how to incorporate Arts Integration in your classroom and makes it a very real and less scary idea for teachers new to the techniques.
That same evening, classroom teachers gathered at Orlando Family Stage to further dissect and experience Ms. Erickson's take on bringing literacy to life. This time together includes modeling, reflection, discussion, and practice, diving deeper into the drama strategies with their peers. This unique learning community is comprised of teachers from multiple grade levels, schools, and subject matters and also includes local teaching artists andUCF Theatre for Young Audiences graduate students. One of the great things about this mix of educators and artists is that it represents exactly how Arts Integration should work. We are not teaching one subject more than the other, both the art form and curriculum area are equally represented in the lesson. Teaching Artist Brittany commented on how the workshop helped give her tools to become a better teacher, "Overall, Karen's attention to detail and her focus on the importance of words (including not just what we say, but how we say it) made me so excited to create and enhance my own lesson plans." Teaching Artist Scott Savage agrees, "Attending ELTA workshops has reinforced in my mind what is needed to make arts integration work. I walk away from these trainings with a keener sense of purpose and an understanding that I need to my prepare curriculum to meet my student's needs, and not the other way around."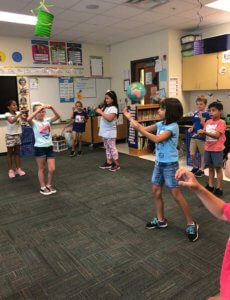 Orlando Family Stage holds four of these workshops throughout the year at the theater, and also brings these trainings directly to schools and organizations. Over the past two weeks REP Education staff have also led two workshops for local drama teachers including Making Moves: Honoring the Individual through Ensemble Based Movement and Save the Drama for the Stage: Building Class Culture in the Theatre Classroom. Education Director, Jennifer Adams explains, "We offer sessions on broader topics where teachers can adapt techniques for their classrooms and we also build professional development experiences custom to specific standards, grade levels, and curriculum needs. We hope these workshops will lead to more long-term impactful professional development partnerships with classrooms and schools. We have seen incredible growth and success with teachers and their students who we have mentored over multiple years. We can think of no better way to support our schools than through an investment in teachers and arts integration."
Our next workshop is What's My Role: Deepening Reading Comprehension through Story Creation on October 23, 2019.
For more information about Orlando REP's ELTA program, please contact 407-896-7365 x219.