There's more to Polkadots: The Cool Kids Musical than just catchy songs and cool lighting effects. It follows the story of Lily Polkadot, who just moved to the Squares-Only town of Rockaway, where she doesn't exactly receive the warmest welcome – all because she looks different from the other students.
As Orlando Sentinel's Matt Palm put it, Polkadots charmingly teaches the valuable lesson of acceptance, and the importance of friendship, welcoming strangers, and standing up to bullies.
The inspiration for Polkadots actually stems from pivotal civil rights events of the 1950s and 60s. Namely, the stories of The Little Rock Nine and Ruby Bridges.
The Little Rock Nine
In 1954, the U.S. Supreme Court ruled that segregation in schools was unconstitutional. Despite this, some schools in the U.S. remained firm in their stance to remain segregated. In 1957, nine African-American students tried to enter Little Rock Central High School for the first day of classes, but were barred entry by the Arkansas National Guard – which was ordered to be there by the governor.
Eventually, President Eisenhower ordered that the Arkansas National Guard be removed, and sent 1,200 members of the U.S. Army's 101st Airborne Division to protect the students and escort them into the school. The Little Rock Nine attended their first day of school at Little Rock Central High School on September 25, 1957.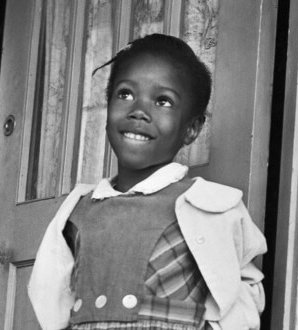 Ruby Bridges
Ruby Bridges had a similar experience when it came to integrating into a previously all-white school. In 1960 in New Orleans, six-year-old Ruby became the first African-American child to attend an all-white school in the South.
Ruby was escorted into the school by four U.S. marshals, protecting her as they navigated through hostile crowds. Parents threatened to remove their kids from the school, and only one teacher, Mrs. Henry, was open to taking Ruby on as her student. And for a whole year, Ruby was Mrs. Henry's only student.
Ruby continued to be escorted by U.S. marshals around the school, even just walking down the hallway. Years later, one of the marshals recalled how brave Ruby was, as the discrimination and racist remarks did not cease after the first day of class – they continued on for weeks. He noted how she never cried or became upset when greeted with adversity – "She just marched along like a little soldier," he said.
Ruby's mom had also advised her to remain strong, and pray while entering the school – much like how Lily Polkadot talks about her mom encouraging her to stay strong and confident in the song "Sticks and Stones" in Polkadots.
"Sticks and stones may break my bones, but words won't hurt you. Don't let your confidence desert you, hold on to what's true – your point of view. When words come to you brush 'em off, that's what momma taught me to do!"
– Lily Polkadot, "Sticks and Stones"
from Polkadots: The Cool Kids Musical.
While we no longer live in an era where school segregation is the norm, the lessons of anti-bullying and inclusion in Polkadots are still relevant to today. Check out Polkadots: The Cool Kids Musical, and see if you can spot the instances that were based on these real-life Civil Rights events that inspired the show.