The calm in a storm of rehearsals, tech weeks, and shows, stage managers such as Tiffany Lyn Meadows (also known as "The Captain" amongst her Orlando Family Stage peers) are the glue – or should we say, gaff tape – that hold every show together. Rarely caught without a headset and prompt book filled with the show's script, cues, and virtually everything needed in order to run the show, these unsung backstage heroes ensure that show goes on without a hitch.
As a stage manager, Tiffany has an invaluable skill-set that keeps the development of shows on-track and organized. Her stage management duties require the ability to think and act quickly as she does everything from assisting an actor with lines during early rehearsals, tracking staging and choreography, all the way to calling cues and writing a comprehensive report of the show – and that's only a piece of her day.
"It's 100% details," Tiffany says. "It's always something new and exciting and challenging, but I've stage managed since my senior year of high school and fell in love with it."
A graduate of Theatre UCF with a B.A. in Theatre Studies, Tiffany found her way to Orlando Family Stage through her then-professor Gene Columbus (Orlando REP's Executive Director) with a summer internship opportunity. Now, seven years later, she's still calling shows from Orlando REP's booths.
"I've loved Orlando Family Stage since my internship, and I've stayed ever since," she says.
But past all of the tedious note-taking and the extensively detailed and color-coordinated prompt book, it's the interactions – and reactions – during shows that serve as highlights to most of Tiffany's time spent stage managing.
"There are always some really great reactions from the kids in the audiences… they're just super honest and don't hold anything back. It's pretty rare that we don't walk away with at least one funny story," Tiffany says. "We'll even put up a sheet backstage to write down all of the audience reactions. That's always fun to look at after a show."
However, sometimes it's the mishaps onstage that leave her rolling with laughter in the booth. One instance that Tiffany says stands out as one of the more hilarious moments during her time at Orlando Family Stage occurred in 2015 during Shrek The Musical TYA. It's a moment that still makes her laugh over three years later.
"During Shrek, Spencer Morrow was playing Lord Farquaad, and he has this big moment where he's up on the balcony and he belts the "Defying Gravity" theme from Wicked, and he forgot the words," Tiffany says through laughter. "At that moment there's about 15 dancers on stage and everybody is focused on him in the spotlight, and he just sings gibberish to the "Defying Gravity" theme. I was crying laughing. I don't think I was able to call cues for a solid four minutes. I still laugh about that uncontrollably when I think about it."
There's never a dull moment as a stage manager, and through the tedious moments interlaced with fun antics backstage (and the rare onstage mishaps), remarkable connections between cast and crew grow upon the foundation of the production that the stage manager helps build. Fortunately, as one show comes to an end another begins, bringing with it new impacts on the cast, crew, and the audiences who attend them.
After finding her own start as a stage manager in high school, Tiffany knows the importance of helping young people find a connection to theatre at a young age – and the excitement is not lost on her all these years later.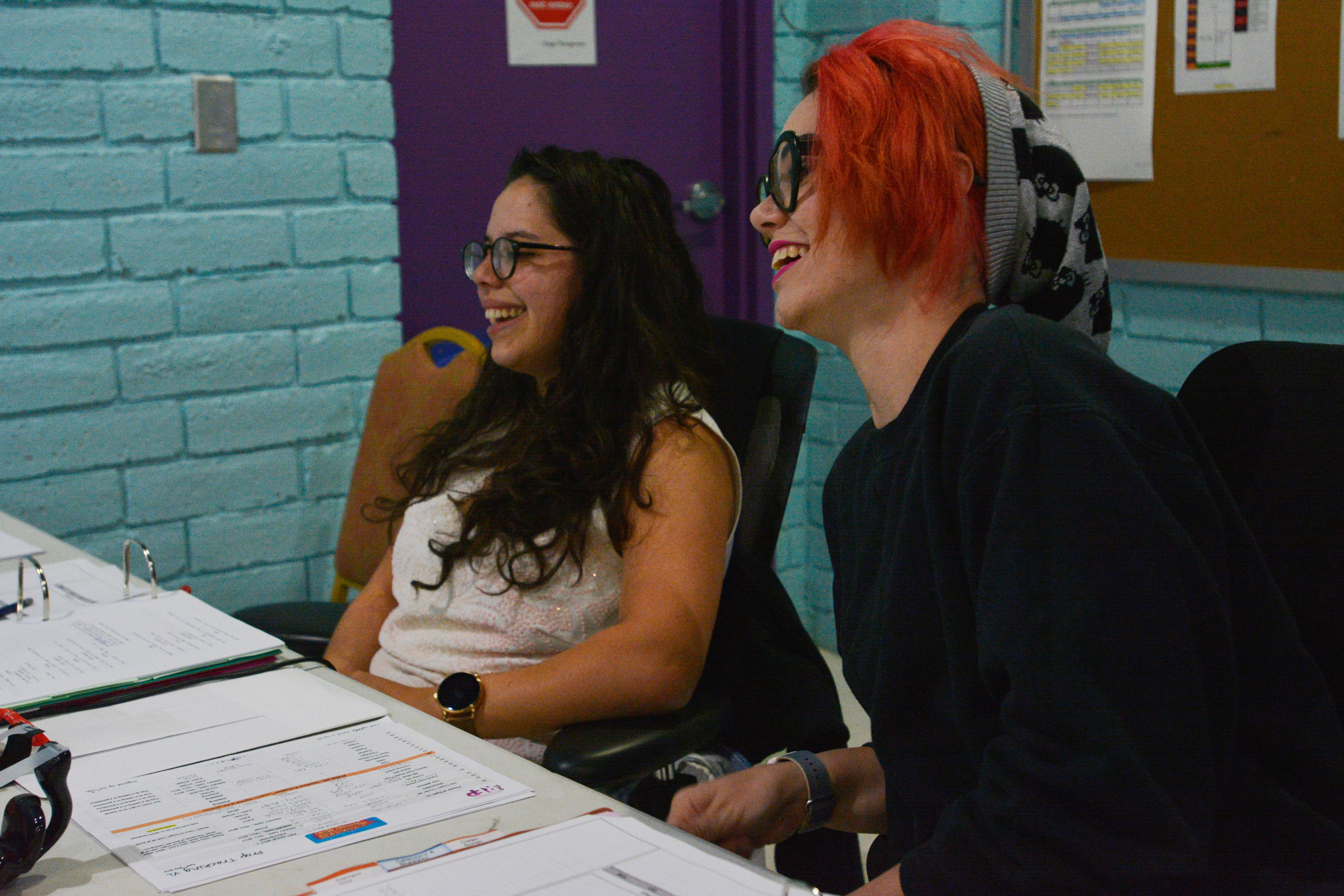 "Having kids in the theatre is always really exciting, and hearing parents talk about how it's their child's first show and seeing the kids react as they stand in lines at meet and greets," Tiffany says. "Theatre is a way to expose younger audience members and children to bigger themes early in their life, and it gets them engaged and involved in a way that's similar to books and movies. It's always super cool seeing how they're affected by the show they've just experienced in real time."