With fun and friendship everywhere in Bikini Bottom, it is hard not to have a great time! We asked the cast to describe their best day ever and we think these days sound superb!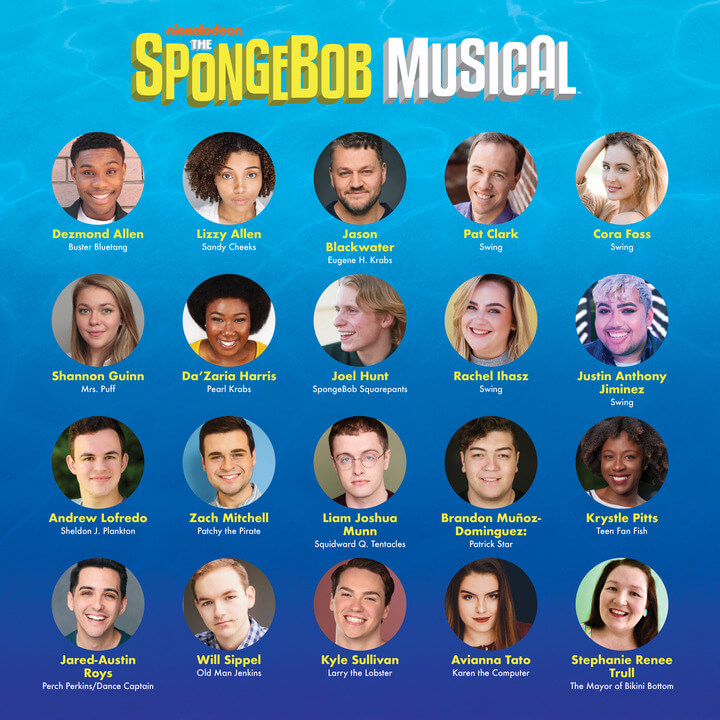 Avianna Tato: My best day ever would be spent reading an amazing novel while laying out at the pool followed by a delicious home-cooked meal!
Andrew Lofredo: My best day ever is one spent relaxing with my closest friends. 
Brandon Muñoz-Dominguez: My best day ever would start with brunch with friends, maybe a Marvel movie and a farmers market, then end with Karaoke, basically just a day I get to spend with the people I love… Oh and throw a hot tub in there somewhere! I love bubbles anywhere 🙂 
Cora Foss: My best day ever would have to include going on a hike in the mountains and finding a spot to have a big picnic with all of my friends! Then ending the night by camping and making s'mores under the stars!
Da'Zaria Harris: My best day ever would be a day full of fun with the people I love and who love me!
Dezmond Allen: Alone, kombucha, love.
Jared-Austin Roys: My best day ever would have to be when I saw snow for the first time. The snow was covering everything and all I could do was stand outside and gaze at the beauty of it all. It was truly a moment I'll never forget! 
Jason Blackwater: My best day ever is my wedding day, spending time with family and old friends from back home as new family and friends from here, as well as the weather holding off and partying in the dinosaur exhibit at Orlando Science Center. But best of all was being with my lovely money…uh…HONEY, Megan!
Joel Hunt: A night at the theater with amazing food and friends.
Justin Anthony Jiminez:  Yes. My Best Day Ever would be waking up at 7am, getting glammed up with my friends, and heading to the theme parks. 
Krystle Pitts: My best day ever was when I received the call that I was getting a new kidney!
Kyle Sullivan: My best day ever would be a day out in nature on a peaceful hike with friends. 
Liam Joshua Munn: My best day ever is a day where everybody is celebrated, respected and nourished… and everyone gets a iced latte.
Lizzy Allen: My best day ever: Art museum hopping in NYC with my besties, followed by a trip to a local French bakery. 
Pat Clark: August 2, 2019. I spent the the day in Rome with my dream girl, ate gelato, taped an audition in the park of Villa Borghese, got rained on, then booked my first professional theater job
Rachel Ihasz: My best day ever would include: Wake up at noon. Brunch at 2 PM,  Starbies run, lazily walk around a farmers market buying things I don't need, possibly more shopping after at Marshall's or something, mid-day nap, snuggles with the fiancee and the puppers, make dinner from scratch, go to sleep waayyyy too late, and have 0 regrets about it. 
Shannon Guinn: "April 25th, because it's not too hot, not too cold, all you need is a light jacket."
Stephanie Trull: Any day surrounded by my best buds, playing fun games, and eating delicious snacks!
Will Sippel: My Best Day Ever would be a staycation with a good movie and my dog in my lap!
Zach Mitchell: My best day ever was a Disney Christmas vacation my family and I took, where we got to decorate our hotel room, go experience all the festivities at the park, and spend the night together having hot chocolate and exchanging Christmas pajamas! 
Get your tickets to see The SpongeBob Musical and have the best day ever yourself!