12/2/2022
This holiday season Orlando Family Stage had the pleasure of working with playwright and creators Holly Reed (Book, Lyrics, Music) and Kelvin Reed (Music) on a fabulous new holiday show, True North: A Magical New Holiday Musical! Learn a little more about them in this production spotlight!
What inspired you to become a theater maker and playwright/composer?
Holly: I've been a vocal performer since age 3 and have always loved telling stories through song. Early in Kelvin's and my marriage, we saw the movie Titanic. I was so moved at how this film took a very well known story and made it feel real and current — it felt like I was actually there and could feel what those people experienced. Many years later, I saw the musical Wicked. I wept throughout the show as I related so much to Elphaba. I was stunned at the power of live theatre to move an audience and loved the storytelling through well developed characters and moving music. I bought every book I could find on writing musicals. And the rest is history! 
Kelvin: I grew up loving music and telling stories. I spent Sunday afternoons watching the old back and white movies. I was intrigued by the music, dancing and singing from amazing performers like Fred Astaire. As I grew older I began to take piano lessons and play instruments in the school band. By the time I started high school I was writing variations on songs, exploring musical styles, harmonies and rhythms. I enjoyed music theory and studying  different chord structures. I became the pianist for my local church and fell in love with performing and engaging audiences. As a Senior, I wrote a song that was performed at our High School Choir  Concert. I had great feedback and decided that I wanted to major in music in college.

What kind of education prepared you for this career?
Holly: I grew up playing the piano and guitar in a very musical family. I took piano lessons from Kindergarten through my sophomore year in college (mom said I had to take piano as long as I lived under her roof!). So I've sang at church and in other venues (both solo performance and chorally) my entire life. I would say my involvement in a competitive vocal jazz ensemble throughout high school really trained my ear for vocal harmonies, so vocal arranging is something I really enjoy. I also loved reading and writing poems and songs as a child (I wrote a rap about camping on one long vacation road trip), so lyrics are always floating through my head. (I fully believe all of life is a lyric!)
Kelvin: I went to a small liberal arts college in East Tennessee (Carson-Newman-University). It was 4 of the best years of my life. The courses and electives that I took gave me a very solid foundation for understanding music structure. It also provided me time to focus on my piano skills and to take private composition lessons. Our school also had a fantastic musical theater program that I got to be part of, with lots of opportunities to study the musical scores and be part of the group of musicians playing from the pit.

What school subjects that our students may be studying do you use everyday?
Holly: Definitely English/Grammar. In elementary school, we used to have to memorize a poem and present it to the class every week. That really honed both my awareness of rhyme and my understanding of telling a story in a compelling way. My teachers encouraged me to do UIL Storytelling competitively, so any opportunity for those extra training and performing opportunities are beneficial.
Kelvin: History is such a fantastic vault of knowledge and life experience. Obviously as a music major I was always drawn to the great composers. Knowing the background stories and the tenacity of composers like Bach, Mozart and Beethoven give me energy and passion for my craft. 

What is your favorite part about writing/composing?
Holly: The stories we tell come from within us, and I've learned that a lot of times things come out from our subconscious onto the page that we're not aware of. I love when I hear a song lyric, musical motif, or bit of dialogue that is serendipitously clever—but wasn't intentionally put in there! Sometimes I'm like, "Well that was smart! Wish I would have done that on purpose!" I really appreciate cleverness and smart writing, which I love in Lin Manuel Miranda's and Stephen Schwartz's work. I often wonder if any of that was not overtly intentional. They're brilliant, so they probably did it all on purpose! 
Kelvin: I am one of those people who finds inspiration, comfort, joy and excitement from the 88 notes of the piano. It has often been a source of relaxation at the end of a busy day. I absolutely love when my ears and fingers carry me to a new idea or expression. When the new melody, idea or pattern takes me to a new place emotionally, I try to get out of the way and let it develop. My favorite part is when I can feel it begin to grow. And even better, when Holly runs into our music room and says 'what was that, play it again'.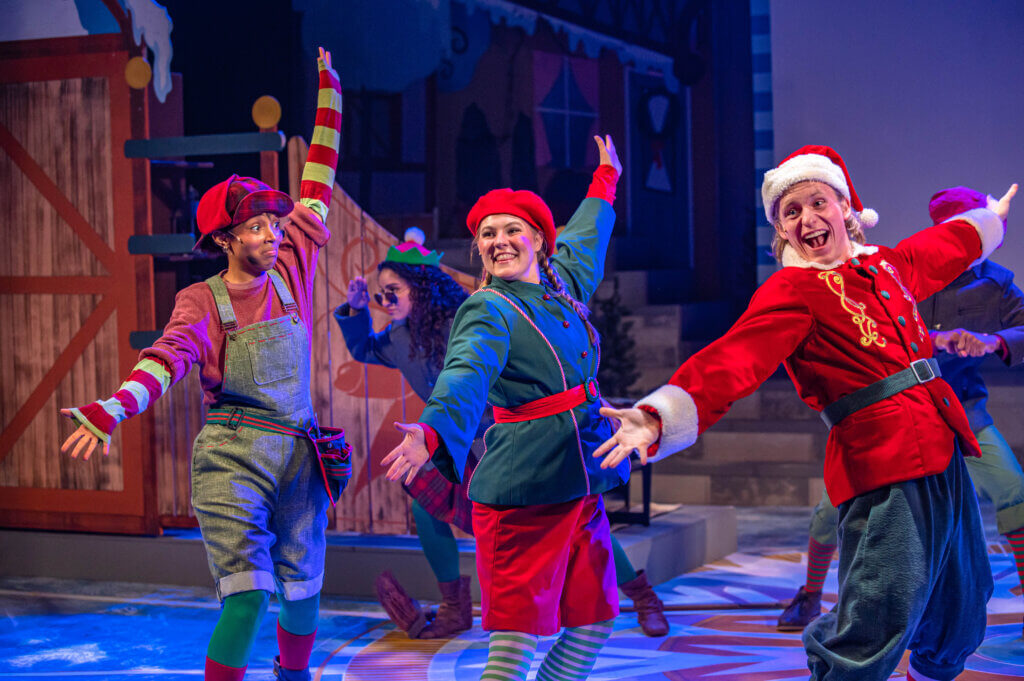 If you could have any job in the North Pole, what would it be? 
Holly: I would probably be like Agent Skittle—making sure all elves were doing their job with excellence and everything looked perfect and was running at optimum efficiency.
Kelvin: I would definitely want Charley's job. I would want to be there for Ben, supporting and encouraging him through his challenging circumstances.

What are three words you would use to describe this production?
Holly: heartwarming, authentic, joyful
Kelvin: joyous, real, fun 

What is YOUR True North?
Holly: What holds my heart? Jesus, my husband, and our 3 beautiful children.
Kelvin: Look inside your heart and find. . . Jesus, Holly, 3 awesome kids.
Get your tickets to True North today!