12/1/2020
Meet Rob Ward; Director and Writer of Sleigh What?!?!
When/How did you get involved with improvisation and writing?
I've been a writer as long as I can remember.  It's something that always came pretty easy to me.  Honestly, I never thought of it as available skill until I was in college. That's when I discovered, "Oh this is something special that not everyone can do easily."
As for improv, I took my first improv class on a whim when I was 16 at the Florida State Thespian Festival.  I immediately fell in love in with it, and had to learn more about it, so I started obsessively reading every improv-based book, I could get my hands on and watching Who's Line Is It Anyway around the clock.  A few years later, when I moved to Orlando, I found SAK Comedy Lab in the phone book, and begged my parents to buy me a semester of improv classes for my birthday.  The rest is history.  Oh, and the cool part is from 2008-2012, I ended TEACHING the improv workshops at the Florida State Thespian Festival, a total full circle moment for me.
What kind of education or experience prepared you for this career?
I majored in Creative Writing at UCF, and have taken  (and taught) dozens of improv classes all over the world.
What is your favorite part about creating Sleigh What?!?!  
I love projects that are innovative and shake up the status quo, so when Jeff Revels approached me about creating something far different for Orlando Family Stage, I immediately jumped at the chance.  Also working with this cast and crew, challenging them to think differently, and try something risky has been an absolute blast.
What are three words you would use to describe this production?
Unpredictable, Wild, and Silly.
Do you have a favorite improv game or type of improv game? 
I love games where you have to really give up all control.  In life, we juggle so many obstacles at once, and have to maintain control over so many details, so I love the games where you can really let all that go, and just be in the moment.  It's truly a freeing experience.
If you could drive Santa's magical sleigh, where would you go? 
I would love to do the thing the big guy himself isn't allowed to do, and visit a bunch of kids opening their presents Christmas morning.  Seeing that kind of surprise and pure joy is such a gift, and it's one I think a lot of us could use right about now.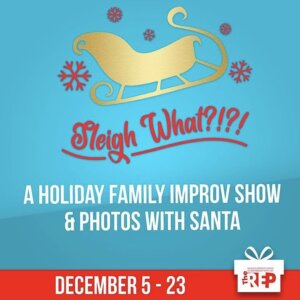 Get YOUR family tickets to this safe and fun holiday treat and learn about this production's safety precautions here!